Queue part 2 of the UP tour (you can find part 1 here).
Unfortunately the amazing weather we had at 12-Mile Beach didn't last. What do you do when it rains for 5 hours while camping? Pretty much nothing: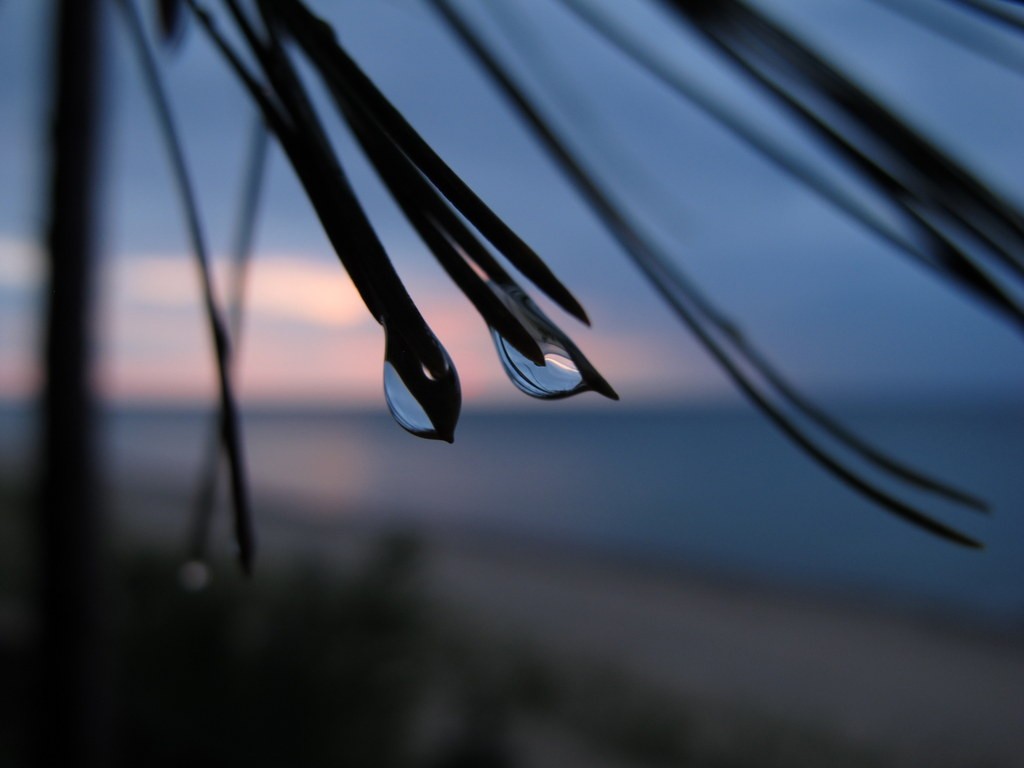 So after eating, and drinking, and drinking, and drinking in the rain for most of the afternoon, the rain let up a tad. So we busted out the cameras and played around a little bit with some nighttime photography.
Our reprieve from being wet didn't last long. The rain came in heavy and sideways for most of the night, finding every weakness in our tent. This made for a very hasty pack-up the next morning in search of "dryness," aka, our hotel room in Marquette.
We couldn't however resist the short hike down to Miner's Falls on our way westward for a photo op (yes, that's me at the bottom of the picture looking for my can of industrial strength, cancerous bug spray that fell out of my pack and down 200 feet of slippery rock).
Arrival in Marquette meant a hot shower and warm, dry clothes. We had game planned for a short nap after the sleepless night in the monsoon, but there was too much to do and see! One of the must stops in Marquette is Presque Isle Park, 5 minutes along Lake Superior northwest of town. There you'll find some commanding views of the Lake as well as some cliff jumping.
We were coincidentally in Marquette the same night as UP Beer Fest. Let the fun continue…
UP Beer Fest is hosted by the Michigan Brewers' Guild every September in Marquette, right along Lake Superior in beautiful Mattson Lower Harbor Park. It features over 50 Michigan breweries, local food, and live music. This was my first time attending, but I'm already planning next year's trip up for it.
The beer fest actually ends at 6, which was great because it gave us a chance to check out some of the great spots to grab a drink and a bite at in Marquette.
Post beer fest stops included, Ore Dock Brewing Company, Black Rocks Brewery, Das Steinhaus for dinner, and then a nightcap at the Northland Pub inside the Landmark. Both Ore Dock & Black Rocks brew some great beer. Black Rocks doesn't have a lot of space to hang out, but they're currently doing construction on their new facility. Ore Dock on the other hand has 2 levels with tons of seating and typically has live music on the weekends. Both are worth checking out when you're in town.
Dinner at Das Steinhaus consisted of traditional German fare. I wasn't even sure what I had, but it was delicious. They just opened in August, but both times I've been there it was packed, a sure sign of success.
I've been to Marquette more times than I can count, and many of the evenings out end at the Landmark. I'ts old, creepy, and awesome. They always have a good draft beer selection, but we usually end up drinking spirits or cocktails. I can't explain this, but it just feels right (until the next morning).
Needless to say, an evening out in Marquette was a great way to end our UP tour.
If you're interested in heading up over the Bridge, I highly recommend having a game plan on where you want to go and what you want to see. There's a ton of amazing sights in the UP, but it's a huge place and I wouldn't suggest just heading up and "figuring it out." In 5 days we traveled almost 900 miles, but we knew exactly where we were going each day and how far it was to get there. Also, your phone may not work in many areas, so might I suggest buying a gazetteer. I have one of Michigan and it has a lot of the dirt roads we traveled on it for easy navigating. And my last piece of advice – it is almost always colder in the UP than in the LP. Bring warm clothes!
Special thanks to my travel companion and photographer Jason Helbig for contributing photos to this post.
Please enjoy this photo of a waterfall.
Copyright &copy Northern Swag. Hosting by SodaServer.com