Da Yoop – Part 1
As somebody who lives "up north" in the eyes of most Michiganders, I try and head up north myself at least a few times a year, meaning the Upper Peninsula. I was lucky enough to recently have a week in September off from work and headed across the bridge with a buddy and a car full of gear (aka beer and encased meats) for a tour around the eastern UP. Here's some shots and a brief recap of our trip.
Here's a visual of our approximate route:

View Larger Map
We drove close to 900 miles in 5 days (in a Prius, relax hippies). That's an average of a little over 3 hours in the car each day. When put that way it sounds kind of awful, but driving around in what feels like the middle of nowhere has a great sense of adventure to it.
We headed up late in the afternoon from TC to near Grand Marais to set up camp and hit the sack before an early morning back in the car. That first morning was a trip directly to the Mouth of the 2-Hearted River. I'd only been here once before and that was before the Duck Lake fires in 2012 so I was very curious to see how the area was recovering. Some of the growth is coming back, but there was some damage to the campground and the general store near there was completely destroyed. Driving through the burn zone was definitely both fascinating and depressing. I've never visited a wildlife area after it was ravaged by fire. The picture below gives a sense of how surreal it was; both beautiful and a reminder of nature's devastating power.
Finally we arrived where the 2-Hearted runs into Lake Superior. This is one of my favorite spots in the world. It's incredibly remote (it's billed as the most remote campground in the UP. IN THE UP!) and after the long, winding drive down dirt roads, you feel like you've arrived at the end of the world. The magnitude of Lake Superior is amazing and the silence is rejuvenating.
Unfortunately, we didn't camp here this trip, but just wandered around the beach for a bit before heading onward. We also got buzzed by a Bald Eagle, but didn't have the cameras at the ready. So that kind of sucked.
Next up was a quick stop at Tahquamenon Falls on our way back to Grand Marais before attempting to find a campsite at 12-Mile Beach in Pictured Rocks.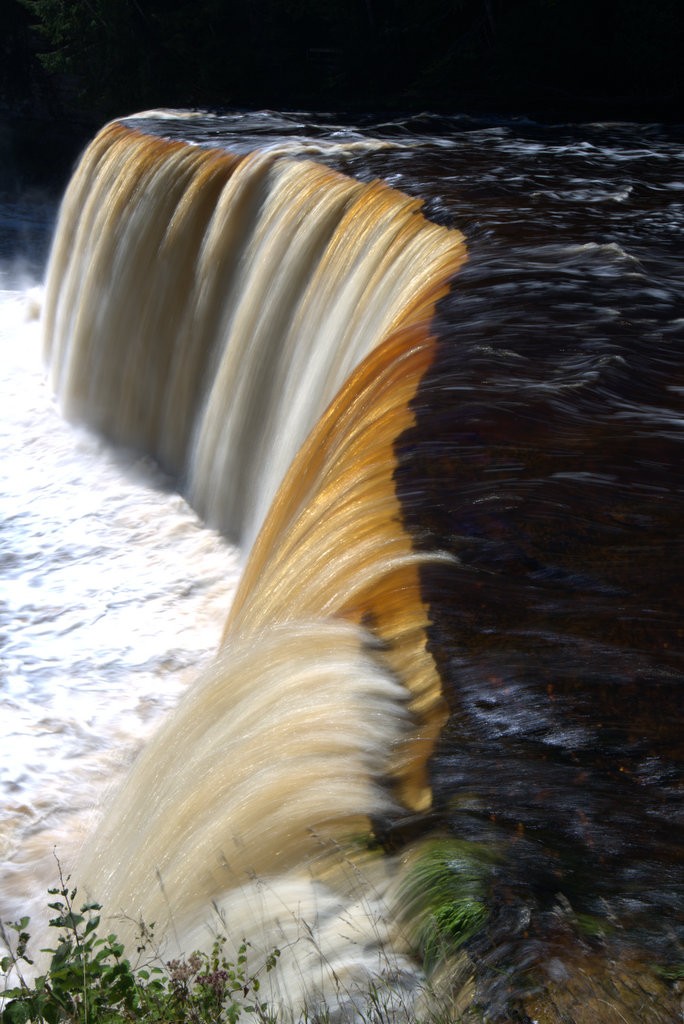 Lunch at Lake Superior Brewing Company in Grand Marais was a must, but not before making a phone call real quick at what has to be the only remaining phone booth in the state.
Everybody I know that's been to Lake Superior Brewing Company raves about it. I'll be honest, it looks like your typical hole-in-the-wall UP dive bar. In fact, I've been to Grand Marias numerous times but had never stopped at LSBC for that exact reason, you can't even tell if it's open for business until you walk inside. But once you head in you
realize why it has such a great reputation: good food, decent beer, & friendly service. The food at LSBC is your typical bar fare, but it's really well done, especially when it's the last meal you aren't preparing yourself on a camp stove for a few days. I had fried fish and it was dusted perfectly with batter and lightly fried. They typically have 3-4 of their own beers on tap. The blueberry wheat was quite refreshing. You can count me in now as another advocate for this place as a must stop when passing near Grand Marais.
After our resupply we headed straight to 12-Mile Beach in Pictured Rocks National Lakeshore and set up camp for a few days. This ensued:
We had perfect weather for the first part of our trip, low 70s and sunny with a light breeze. If you haven't been to 12-Mile Beach then you're missing out. The campground is up along a bluff overlooking Lake Superior. But due to its beauty, it's very popular & I've had a few trips where we had to resort to "plan B" because it was full. But if you can snag a spot I definitely suggest staying for as long as you can, the landscape is second to none.
Part 2 to be posted shortly…stay tuned!
Copyright &copy Northern Swag. Hosting by SodaServer.com