North Manitou Island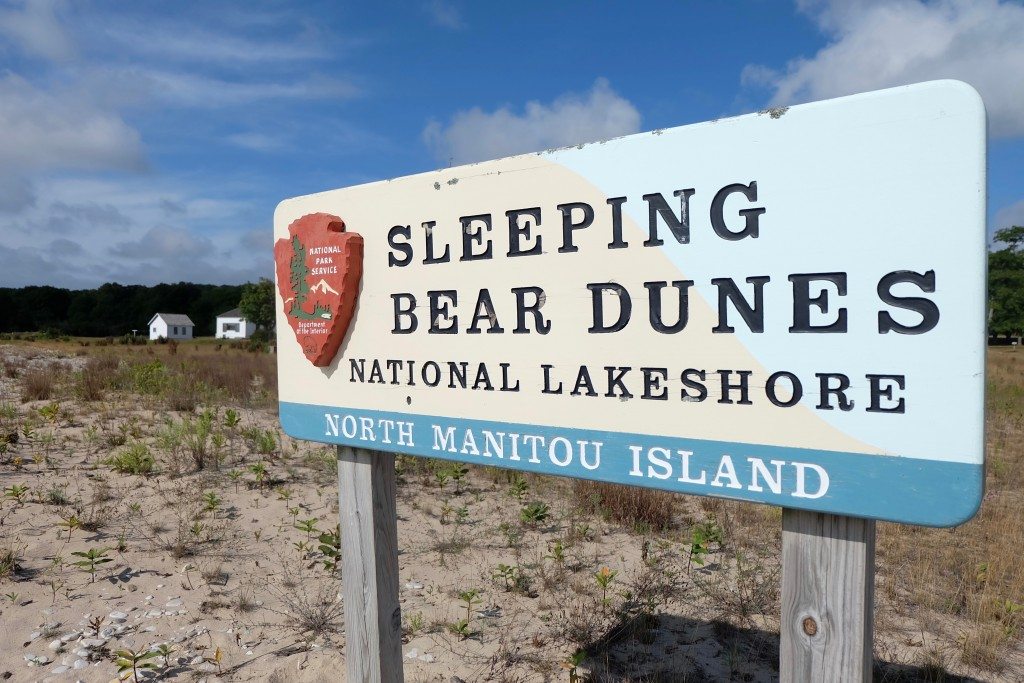 After a little over 10 years since my last trip to North Manitou Island, I recently had the opportunity to return for a 3 day trip with my adventuring partner, my daughter, Izzy.
If you're not familiar, North Manitou is one of 2 islands (the other being…South Manitou!) off the coast of Sleeping Bear Dunes National Lakeshore, in Lake Michigan. It's about an hour ferry ride from Leland to the island. Upon arrival, you're greeted by a ranger who gives a brief rundown of the rules, like no campfires outside of the 2 designated fire rings, no camping within 300 feet of the water or trails, and that if you didn't pack enough food the only extra that the rangers have is an undated tin of SPAM. Then you're off!
One of the many things I love about North Manitou is that wilderness camping is allowed, meaning you do not need to camp within a campsite, a.k.a – you can camp anywhere (subject to the aforementioned rule of being 300 feet from water and trails). In comparison, on South Manitou you can only camp at campsites. With almost 15,000 acres of wilderness, finding a quiet spot away from the other travelers is not an issue, at all. In fact, over our 3 days on the island, despite being peak season, we saw very few other people.
Our trip began with an arrival in Leland on a Saturday afternoon, fully stocked up on gear and excitement. The direct ferry to North Manitou leaves the dock next to Manitou Transit in Fishtown a little before 2pm, putting you on the island around 3. By 3:30, after a brief chat from the park ranger, we had our packs on and headed into the wilderness.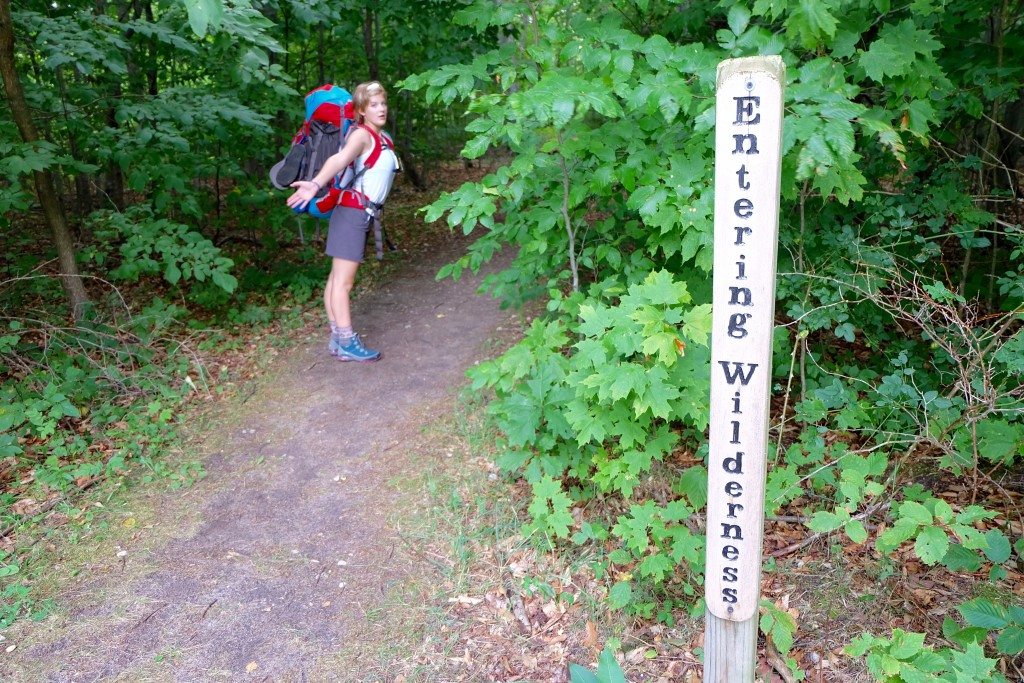 Our day 1 goal was to reach the west side of the island, find a remote site overlooking the water, and take in the sunset. In order to do so, we headed south about a mile before turning west on the main trail that cuts across the Island. After a little over 6 miles, we found the beach at the Crescent City ruins, which features rolling dunes down to the water. Having never been to this part of the island, we didn't know what to expect, but once we realized there were already a few sites established in this area, we decided to keep moving and find something more remote. So we headed south along the beach.
Once leaving Crescent City, the bluffs along the water became very steep and the beach rocky, making our travels more difficult, especially with our packs, which after a couple hours of hiking felt like they weighed 200 pounds. We diligently looked for a trail up the bluffs and after about a mile found a steep path up, which led to a perfect little outcrop high above the water. This was the spot we'd been hoping to find; great view, 300 feet from the water but close enough to see it, nobody in sight, and near a game path that appeared to head in the direction we wanted to go the next day. It was time to set up camp, chow, and relax while taking in a mostly overcast Lake Michigan sunset. You can see our day 1 trek and campsite here: North Manitou Day 1.
Day 2 started with a short trek on some game trails through thick fields and woods until we connected to the main trail heading back south and then east across the Island. The goal was to find a nice site along the east side of the Island to set us up for a nice short hike to the ferry the next day so we wouldn't feel rushed in the morning. Where a lot of the west side of North Manitou is defined by steep bluffs down to the water, the east side has less severe elevation changes with wide beaches. The beaches aren't quite 300 feet wide though, so setting up camp in the woods is still required in order to meet the minimum distance from water mandate. After about 6.5 miles we found our spot. There was a little ridgeline in the trees we set up our tent on so we could see and hear the water while we hung out at camp. Again, we didn't see any other people on the beach the entire evening. You can see our day 2 hike and campsite here: North Manitou Day 2.
Since we were on the east side of the island and couldn't take in the sunset, we decided to get up early and enjoy the refreshing waters of Lake Michigan during sunrise.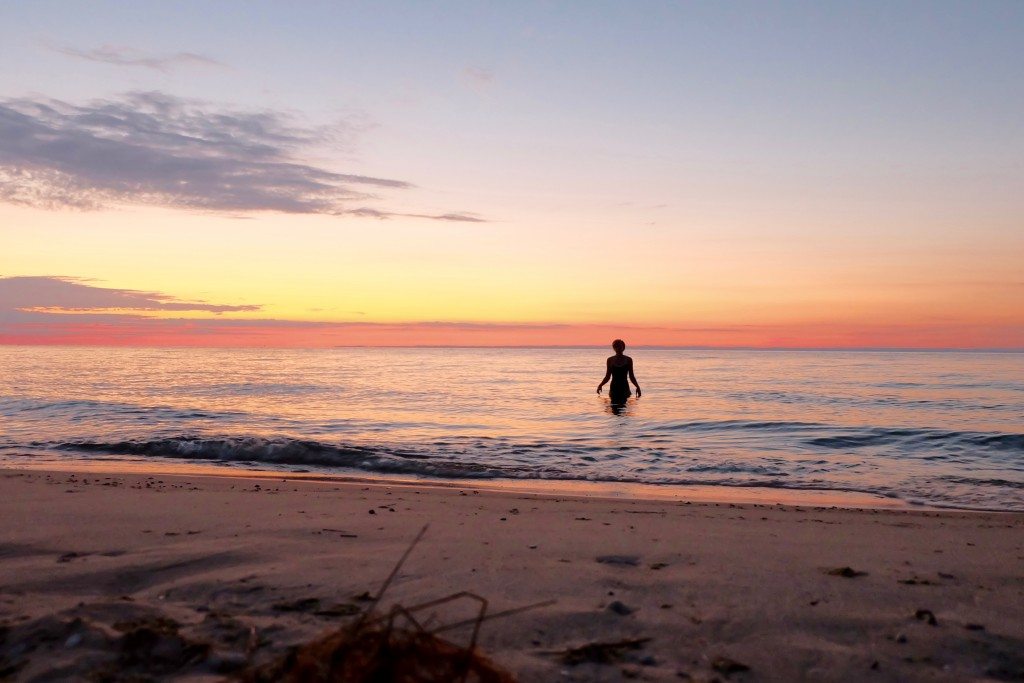 After that, it was time for (lots of) coffee, breakfast, and to pack everything up and head back to where the ferry would pick us up around 12:45. We could see the dock from camp, but it was a little difficult to tell how far away it was, so we got an early start, only to end up at the pickup location about 3 hours early. Tragically, it was a gorgeous northern Michigan summer day so we were forced to lounge on the beach and take repeated swims in the crystal clear waters while we waited for the ferry. Here's our short hike back to the ferry pickup on day 3.
We had an amazing 3 days and are anxious to go back. Our only regret was that we didn't stay an extra night or 2, but the anticipation of sandwiches at the Village Cheese Shanty in Fishtown made us glad we were heading back to the mainland! North Manitou is such a great trip because it feels isolated and remote, but is relatively easy to get to compared to other remote places to camp. I've found it's very easy to find great sites overlooking the lake, without having to deal with a lot of other people around. With how popular the Grand Traverse area is now, that's not exactly an easy feat. Between how beautiful the island is, how remote it feels, and how easy it is to get to, I'd rank it as easily in my top 3 camping spots.
Alright, enough rambling. If you want to go backpacking, here are my random tips and thoughts.
– Don't overpack on clothes. Since it was summer we were able to wash our hiking clothes in the lake and they'd dry overnight, meaning we didn't need to pack a change of clothes for every day we were on the island. We also only needed to bring one midweight insulating layer each since the weather was forecast to be pretty warm, even overnight.
– Another way to save weight is remove all the packaging you don't need from your food. For example, we had 2 boxes of Mac n' Cheese, which we dumped into one ziploc bag and avoided bringing the multiple boxes. This doesn't seem like much, but it adds up quickly if you're carrying multiple days worth of food. Another thing I do is pack an entire days food in one giant ziploc. That way I know all the food I need for that day is all together.
– Keep your pack organized! There's nothing more annoying than stopping mid-trail and removing everything from your pack because you put the band aids at the bottom. Thinking ahead and putting things you will likely need near the top or near a zipper will save you a lot of hassle.
– If you're on North Manitou near the shoreline, or hiking anywhere where fresh water is prevalent (like along a river), you can avoid carrying a lot of water (it's heavy!). Just bring a filter and filter it as needed. In addition to my MSR filter, which works great, I carry one of these LifeStraws for quick drinks out of the lake!
– Invest in a good stove. I've had the MSR Pocket Rocket for over a decade and it still performs flawlessly after tons of use, is lightweight, and boils water fast!
– Another great thing about North Manitou is there are not any bears. Not that I'm proposing you be afraid of bears, as obviously an encounter even on the mainland is unlikely, but if you're anywhere that bears could be, certain precautions need to be taken. These include: hanging food from trees, packing a bear proof container, and making sure no food is on your clothes while you sleep or in your tent. It's nice to just not have to worry about that while camping.
– I like to keep meals simple. The focus of our days was on hiking and swimming, not prepping food. Usually we ate after being on our feet for a few hours so it was nice to be able to have dinner ready with very little prep. But some people like to do the gourmet thing, and that's totally cool. Just keep in mind that if you're putting in long hikes with a heavy pack you'll be really tired and hungry once you get to camp and taking a long time to make a fancy meal might be the last thing you want to do.
– Bring a good book. I took a chance on a book I was unsure on and it ended up not being that great, which meant I didn't really look forward to reading it & was essentially just carrying around an extra pound of gear with no purpose. This is obvious, right and I'm just a moron? The answer is yes.
– Despite my previous suggestions on being weight conscious, I do like to bring a table and chairs. It's not always easy to find a good log or stump for sitting or prepping food on, so I bring these luxuries with me. I use and highly recommend the Flex Lite table and chair from REI.
– And here's one thing in contrast to my first point that you won't see a lot of people advocate, I brought my 3-person tent for 2 people (but hey you saved weight on clothes and food packaging!). The extra space was awesome and we were able to comfortably spread out, which was nice considering it was pretty warm, even overnight. The difference between my 2 person (more like a 1.5 person) ultra-lightweight backpacking tent and my 3-person tent is less than 2 pounds. Totally worth it!
Feel free to leave a comment or email us if you have any questions or comments, we always love to hear from our readers.
Copyright &copy Northern Swag. Hosting by SodaServer.com