White Pine Campground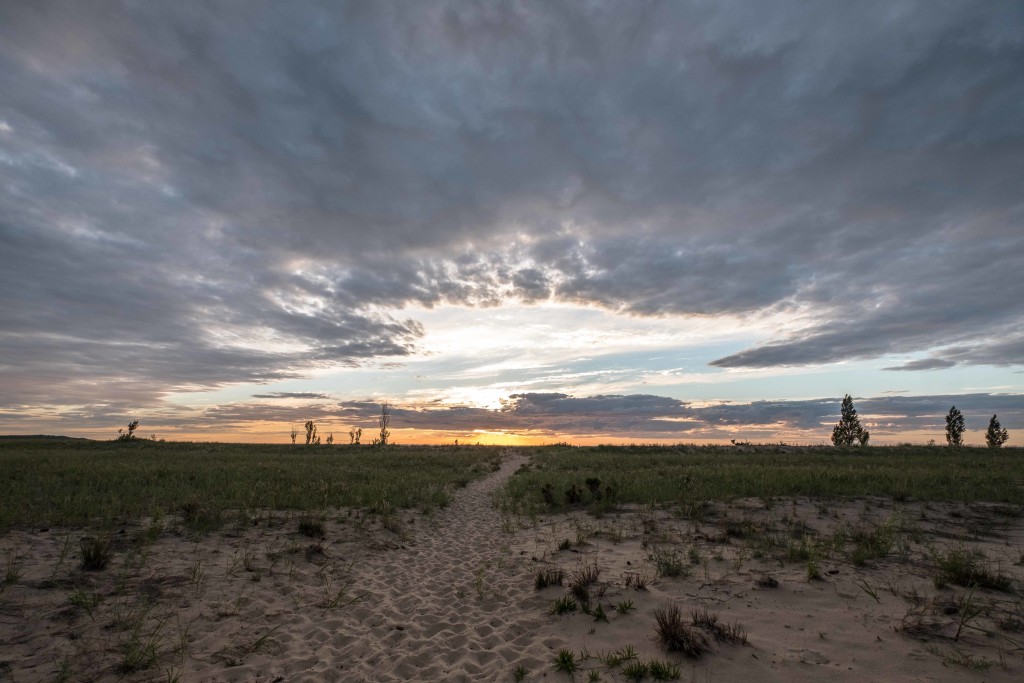 Sleeping Bear Dunes National Lakeshore is, as we all know, one of the most amazing places in the country…heck, the world (sure, we're biased). That means that in the summer it can feel a little crowded due to its popularity and maybe you don't want to get up at the crack of dawn to wait in a line of cars for hours to get a campsite at DH Day. Maybe you want something more remote. Of course, you could hop on the ferry to head to one of the Manitou Islands. Or…you could go to White Pine, the only backcountry camping site in SBDNL not on an island, and easily one of the most accessible backcountry campgrounds I've ever visited. Yes, there were 2 backcountry campgrounds in the Park, but the famous "Storm of August 2015" caused enough damage to the other one that it's now closed, leaving only White Pine.
A couple years ago we hiked the trail from Peterson Beach to Bass Lake that goes through White Pine, and ever since I've been itching to go back. Well, an upcoming trip to Isle Royale actually prompted our visit last weekend as an easy and accessible way to test out some new gear for the trip way up north in August.
Permits can be obtained at the Platte River Campground Ranger Station during the summer, and are $10 each. There are only 6 sites at the campground, but I'd heard it isn't very busy, so wasn't overly concerned. We arrived at the ranger station around 2:30 in the afternoon and were actually lucky to get the last permit!
You can access the trail to White Pine either from Peterson Road or Trails End Road, both are off of M-22 south of Empire. We elected for Peterson Road since it was a shorter hike, about a mile versus a little over 2. Our plan wasn't to get some mileage in, but to see how much beer we could carry, so the shorter the better.
The hike in from Peterson is a little sandy, making the trip even more slow going than just due to the fact that we decided to carry a cooler in with us. We overpacked on beer, and after drinking one before our hike, we just couldn't bear to leave any in the hot car where it would most likely perish from the heat. So yeah, we carried a heavy-a$$ cooler into a backcountry campground. Epic or ridiculous? You decide.
The weather was warm and muggy, so immediately after getting camp set up, we walked down to the beach on Lake Michigan to cool off. The NPS website states the beach is about a half mile from the campground, but I think it's closer to a third of a mile, so not that far at all. Then it was back up to camp to cook dinner. We cooked our meal at the communal fire ring (fires aren't allowed at the individual sites) and made a couple new friends while hanging out.  Then we sat in our chairs for an hour or so trying to avoid the persistent food coma from overtaking us. By then it was nearing sunset, so we headed back down to the beach to get some photos.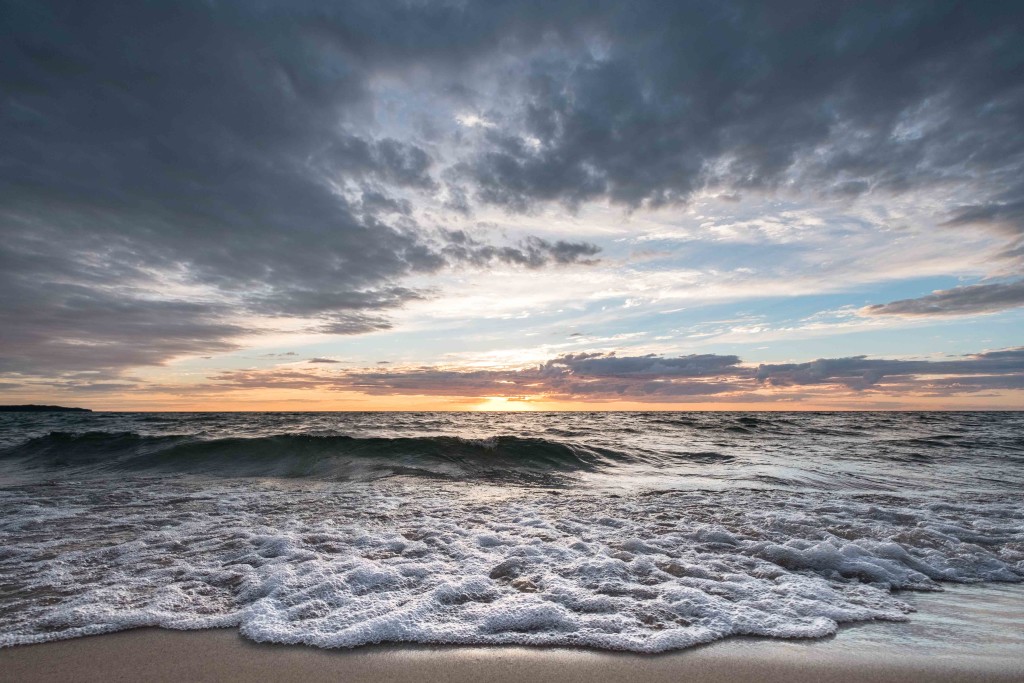 Sleep came easy in our hammocks as they swayed in the light breeze. I even slept in until around 7:30, which never happens. We awoke to a sunny crisp morning and after some coffee decided to break camp and get back into town as we had some other responsibilities to attend to. For the hike back to the car, we decided to take the beach, walking along the firm sand with our feet in the surf.
I spent the whole drive back into TC running through different dates in my head as to when I could get back to White Pine. It's really a great option for families with small kids who want to do some backpacking, or for the backpacking novice, due to the fact that it's such a short hike. In fact, at the campsite next to us was a couple with a baby and toddler, all who seemed to be having a great time. So hopefully I'll be back, with the whole family, really soon.
Copyright &copy Northern Swag. Hosting by SodaServer.com