Da Yoop Part Trois – Isle Royale (4 years later)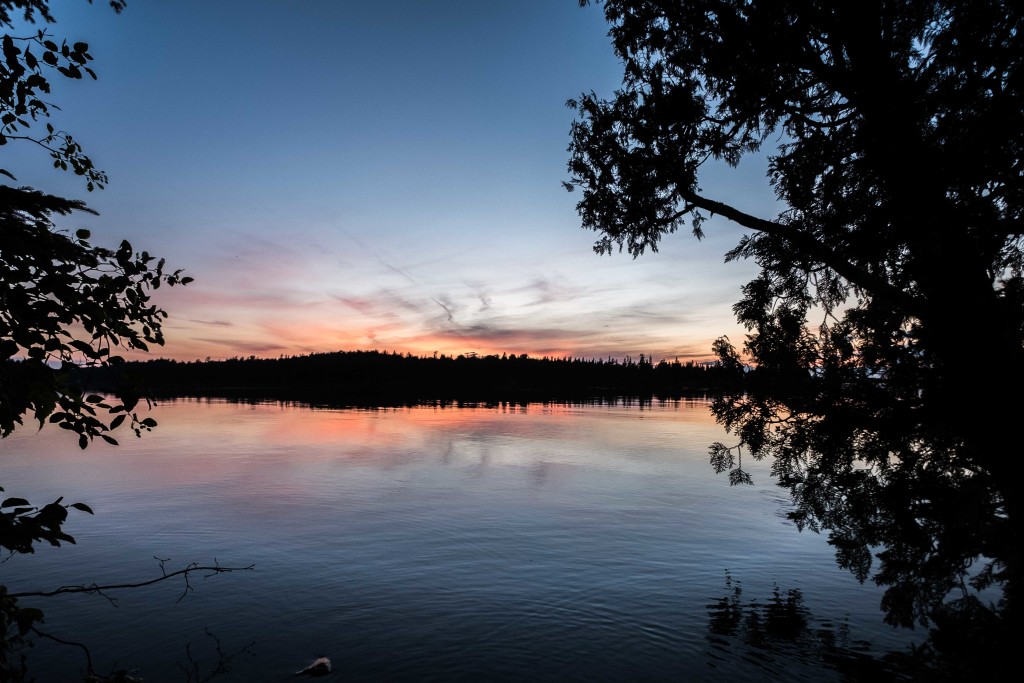 Four years ago, my friend (& occasional Swag photo contributor) Jason and I spent a week in the UP and chronicled that trip in two posts, Da Yoop Part 1 & Deux. That adventure with Jason originally started as a proposed visit to Isle Royale, but we couldn't get away for long enough to make traveling to the island worth it. However, we never stopped plotting, and finally last winter, we circled a week on our calendars in mid-August to head to the island.
The following is a very long post detailing this trip. if you're interested in the TL;DR version – Isle Royale is amazing, the ferry ride is not if it's wavy. The weather is unpredictable (literally) & the trails were more technical than we anticipated. We had an absolute blast.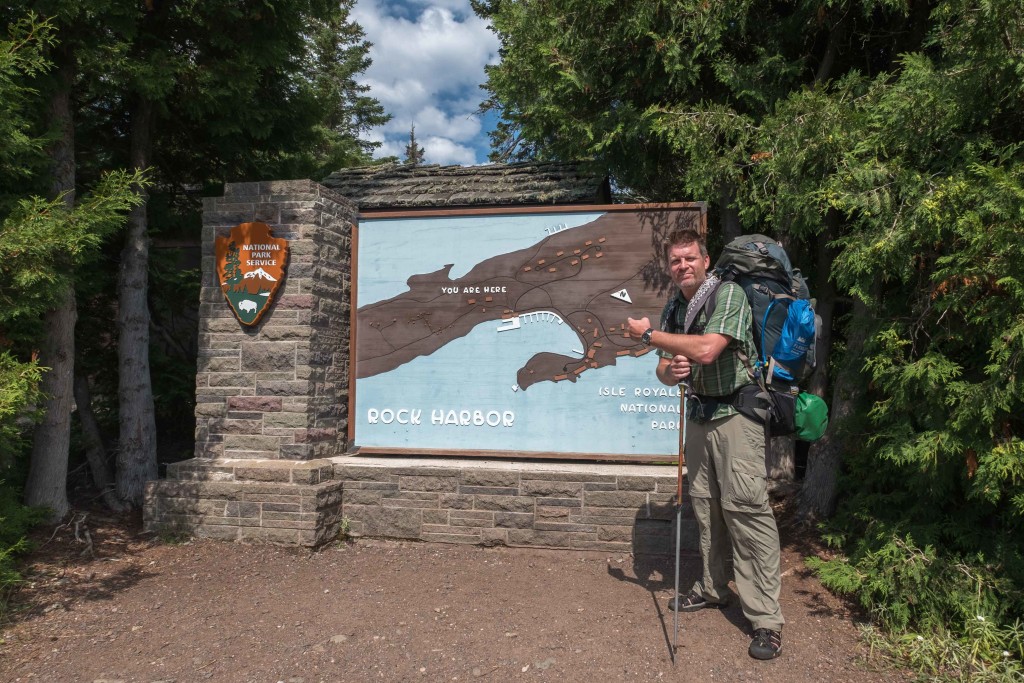 Day -221 +/-, sometime in late January 2017: Jason and I meet up to start planning. We pick our dates and our proposed itinerary and buy our ferry tickets. Queue 7.5 months of anticipation.
Day -10, late July: For the past 211 days Jason and I have texted almost daily about this trip, but now the weather forecast on my iPhone includes the first day we'll be on the island so I start obsessively checking it every few hours and we text constantly. Awesomely, the forecast changes drastically a few times a day so using it to help in deciding what clothes to bring is essentially worthless. The decision is made to bring all of my clothes. All of them.
Day -1, Sunday: I finally pack my gear. I try to cut out unnecessary items, but regardless, my pack weighs around 3,000 pounds.
Day 1, Monday: Get up at 4:45am to load the car up and drive over to Jason's to pick him up and then start the 8-hour
drive to Copper Harbor. We camped at Fort Wilkins State Park, about a mile east of downtown Copper Harbor. Most importantly, we mosey over to Brickside Brewery in Copper Harbor, and after a long drive, we drink a few too many beers. This becomes significant on Day 2.
Day 2, Tuesday: We woke up a little before 6 to break camp, organize our packs, and get to the ferry by 7am. We checked in and had plenty of time to grab some coffees before loading up and heading out 56 miles across the lake.
The weather on Superior was windy and the 3-foot rollers not only had me struggling to keep my breakfast down, but extended the typical 3 hour 15 minute ride to 4 hours. Awesome. When I return to the island in the future, I think I'll opt for the 35-minute flight by seaplane from Houghton. To be clear, the Isle Royale Queen IV Ferry and staff were top notch. The ferry was roomy, had a snack bar, and the staff were efficient and friendly. It's just the Lake Superior waves I have issues with.
We arrived in Rock Harbor, which is on the south side of the eastern end of Isle Royale, to clearing blue skies. There, we got the lowdown from a park ranger and were on our way. Fortunately Jason and I were on the same page for this trip, our goal was to find an awesome campsite and hunker down and chill, as opposed to those with more ambitious persuasions, like hiking the length of the 45-mile island. We had multiple books and no cell service, the perfect setup for a relaxing 5 days on the island.
After lots of online research over the previous winter and spring, we decided our destination was going to be Lane Cove on the north side of the island, which with its northwest facing sites would give us some nice sunsets. We had read somewhere online that "Lane Cove is worth the hike," and we focused on the part of that statement that meant Lane Cove was probably a great camping spot, not that it was potentially challenging to get to. We were so young and naive.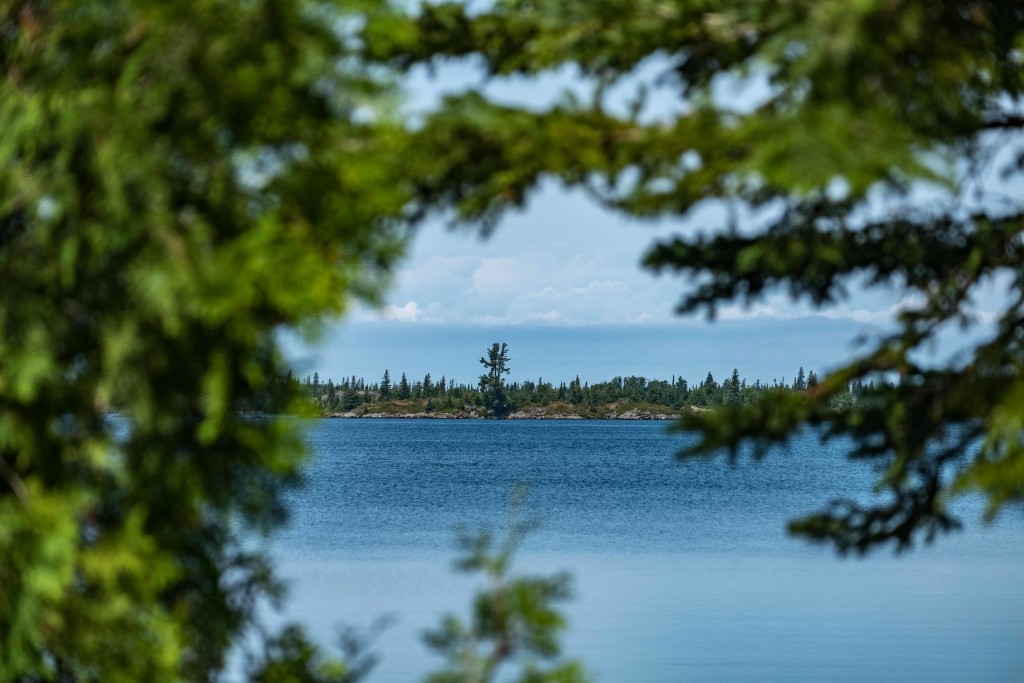 The hike was 6.9 miles and according to the topo map, definitely had some climbing and descending, but the distance wasn't significant and hey, this was Michigan, right? There's no extreme elevation changes here…
After a pretty easy first 3 miles heading west along Tobin Bay, we turned north knowing we still had to summit Mount Franklin and then a few more ridge lines before arriving at our site. The climb from the south side wasn't too bad, the worst part being some slippery rocks and quite a bit of deep mud, but the descent down Franklin was brutal. It consisted of steep, rocky, rooted switchbacks. With our heavy packs and hangovers, we were in pretty rough shape with a little over 2 miles still to go. The last couple miles was a combination of climbing ridges and crossing water on narrow, slippery boardwalks. After a lot longer than we thought it'd take, we arrived at Lane Cove. We were on the island for 4 nights, but Lane Cove has a 3 night max. Fortunately we had a XC permit, meaning we could camp in the backcountry, outside of the campground. So we headed farther east a bit and set up camp in a small clearing, before snagging a site back at the campground the next morning.
Day 3, Wednesday: We were so wiped out the evening before, we ate a quick meal and went right to sleep. We didn't even crack open any of the 4 pints of beer we'd carried in (along with enough bourbon to kill a horse). It rained a tad Wednesday morning, but we were dry and warm under our tarps in our hammocks. We set up camp at Lane Cove and the skies cleared and we set about getting all our gear organized, swimming in the lake (kind of, the water was 48 degrees), and doing a little laundry.
Lane Cove was all we'd hoped and more. The sites were very private and from ours (site 3, the best one in our opinion, followed closely by sites 4 & 2, in that order) we had an awesome view out over Lake Superior and towards a few of the hundreds of little islands that surround Isle Royale. There was even a nice long bench to use, which none of the other sites had.
Despite being the least visited national park in the lower 48, being peak camping season we knew the island would be busy. So it wasn't unexpected when 3 young women came strolling into our site informing us that the campground was full (all 5 sites) and asked if they could share ours. Our site was huge so there was plenty of room. After getting their tents pitched, we all sat around the twig stove (camp fires aren't allowed in most campgrounds) and shared some bourbon. Before we knew it, we had drank almost all of our week's worth of booze and it was later than I've stayed up in I don't know how long! Time flies when you're having fun and making new friends, that's for sure.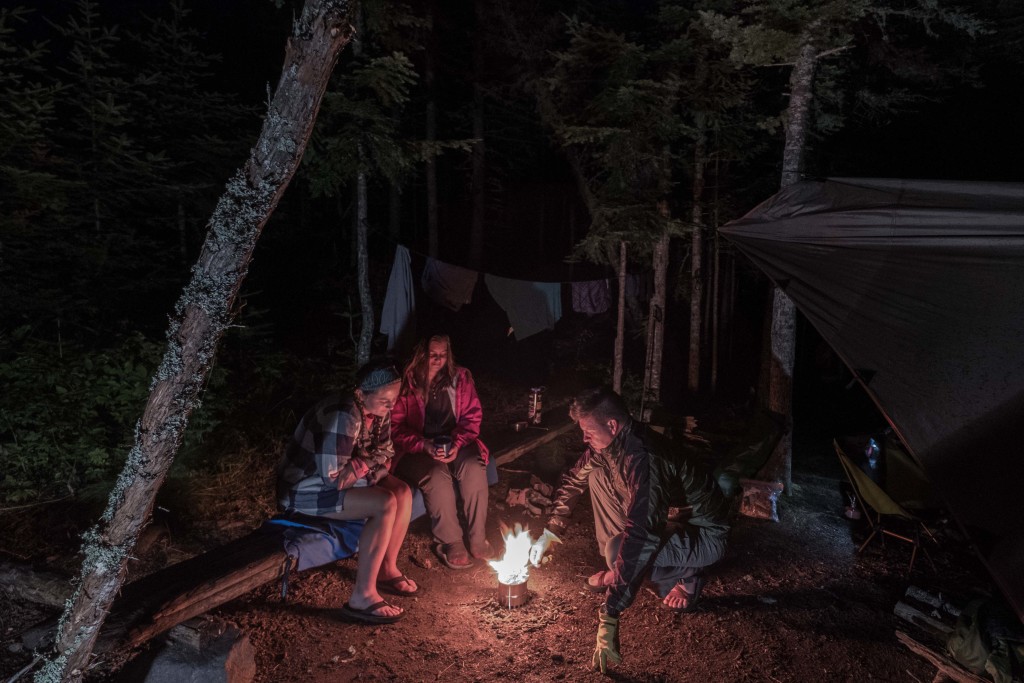 Day 4, Thursday: It was a good thing we made the most of enjoying the beautiful weather the day before, because it rained almost the entire day Thursday. We got out of our hammocks just a handful of times to make food, otherwise spending the entire day listening to the rain hit the tarp while enjoying our books. Right around sunset however the rain let up and the clouds broke a little and we were able to grab a few photos.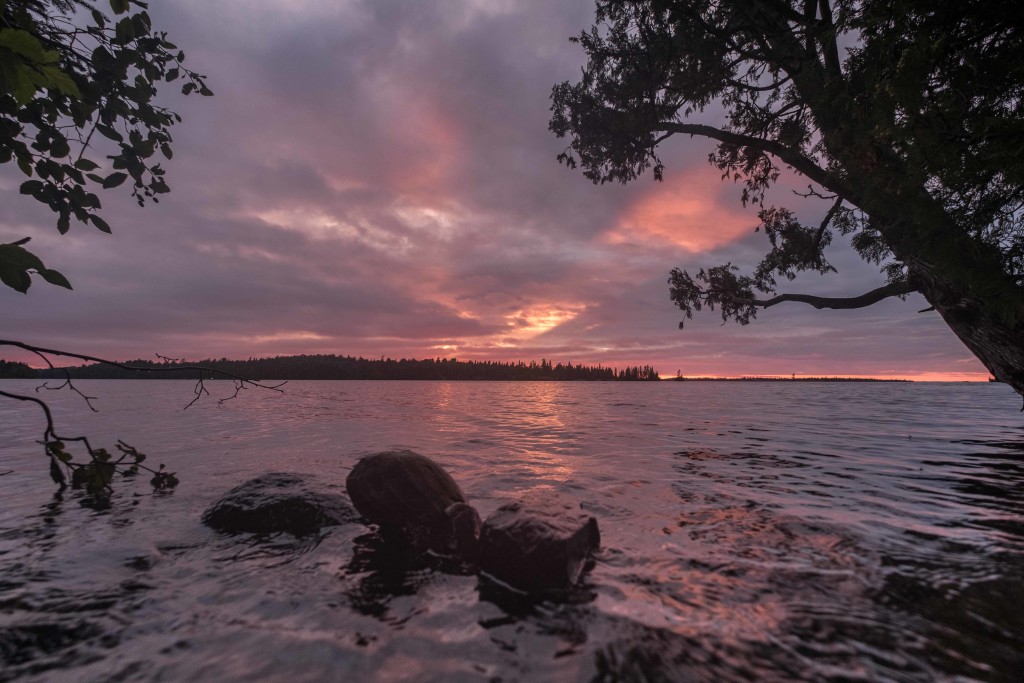 Day 5, Friday: This was our last full day on the island and it ended up being the nicest weather all week. It was sunny all day and felt to be in the 70s, with a slight breeze that did a decent job of keeping the (massive amounts of) mosquitoes at bay. Before arriving on the island, we had planned on doing some day hikes to check out some of the surrounding area, but what we didn't know until we got there is that there aren't very many trails on the island, really, just the main ones between campgrounds. To go anywhere else we would have had to hike back up Mount Franklin, and to be honest, we were just too lazy to do that, especially since we'd be doing it again the next morning to get back to the ferry. So we just hung out and killed some time. Jason had some throwing knives that we quickly learned we were terrible at throwing. We also invented a pretty sweet new game where you throw rocks into a bucket of water. We swam a bit and did some reading, but in every sense of the word, we chilled.
We also spent most of the day keeping our fingers crossed that the clouds would hold off so we could do some night photography as obviously somewhere as remote as Isle Royale is going to have minimal light pollution. We not only lucked out with the weather, but were also surprised to see some pretty decent northern lights.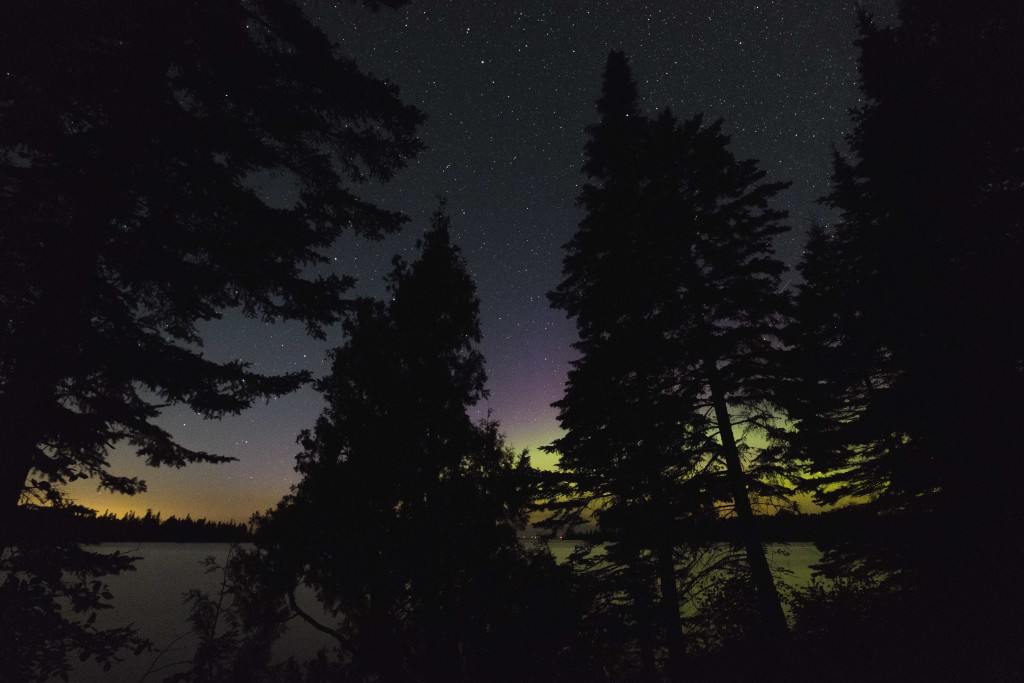 Day 6, Saturday: After such a self-inflicted miserable hike in, we awoke Saturday refreshed, well fueled, and well hydrated, ready to hike back to Rock Harbor and take the ferry to the mainland. Also, our packs weighed about 20 pounds less after consuming all of the alcohol and food we'd packed in. It was another beautiful day, and we made the hike much more quickly, and much less painfully, than we had on the way in. We arrived to Rock Harbor early enough to grab a bite to eat at the Lodge before hopping on the ferry back to Copper Harbor. Our reward for sleeping in the woods for 5 nights was a stay at the Fitz in Eagle River Saturday night before making the long drive home Sunday morning. After an amazing meal and some Scotch, we headed up to our room and I promptly went comatose until the next morning.
Epilogue: Two of the most interesting things the ranger told us upon our arrival at Isle Royale was that the island is the least visited national park, and has the highest rate of return visitors. After spending 5 days there, that makes total sense. I say this while keeping in mind that's it's no easy feat to get there: 8-hour car rides aren't exactly fun, and 4-hour ferry rides through Lake Superior's giant waves are downright miserable. But despite that, I will be back. There's one thing I'd potentially change though; many visitors explore the island by sea kayak and that's what I'd do next time for sure. Isle Royale is surrounded by hundreds of smaller islands, all of which looked like they'd be a lot of fun to check out. Plus, there are campsites that you can only get to by boat. You don't even need to drag your own kayaks all the way out there as you can rent them at Rock Harbor & Windigo (the two primary ports). The challenge to this would be the weather. A park ranger fortunately confirmed that I wasn't misinterpreting the weather forecasts, they change almost hourly and shouldn't be relied on – prepare for everything. The day before we arrived, it hailed M&M sized hail. No joke. But during a sunny, calm weather period, traveling around the island by kayak would be a lot of fun I think.
My MVP award for the trip goes to two things/people: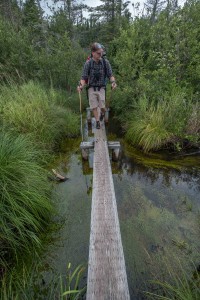 1) Jason suggested bringing hiking sticks. I'd never used one but figured it wasn't a bad idea, even if we didn't walk with them we could use them to hold up our tarps at camp. So we split a pair, each having one, and it made the hike much easier, especially on the ascents and descents. People that use them are definitely saying, "duh," but this was eye-opening for me.
2) My Bedrock Cairn Adventure Sandals. I usually prefer hiking in trail running shoes over boots, and for the first part of the trip my Adidas waterproof running shoes did a great job handling the rocky terrain, especially on the steep, wet sections. But once our feet started to get submerged due to the high water levels at some of the boardwalks, I took (what I thought was) a chance and put my Bedrock sandals on. Despite my heavy pack and the technical terrain, my feet felt amazing. I highly recommend them. We don't advertise on this website, but if the fine people at Bedrock want to send me and my friends some sandals, that'd be awesome.
As always, after a week away from friends and family, it's nice to be home. But Isle Royale was so much fun I'd be lying if I told you that I wasn't already running through different dates in my head to try and get back as soon as possible. With how much work it takes to get there, it'll probably be a year or two, but I can't wait for when that time comes.
Copyright &copy Northern Swag. Hosting by SodaServer.com