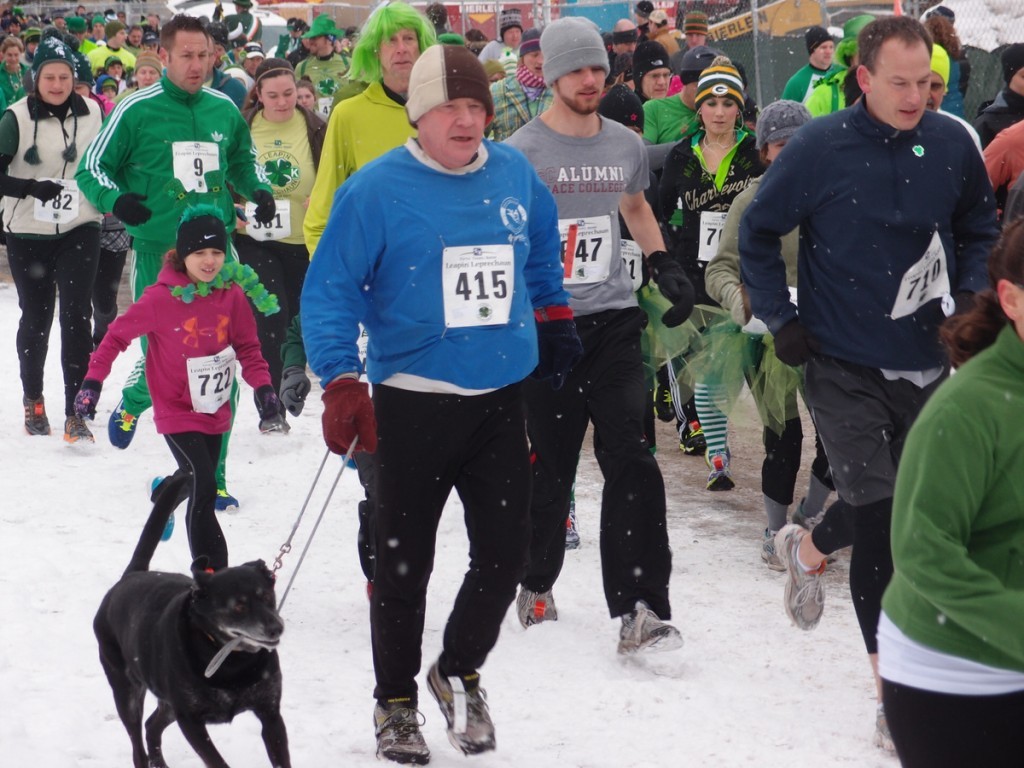 Every spring I decide to dig my running shoes out of the closet and sign up for some races to run in over the summer in order to decrease the size of my beer gut. And these days there is no shortage of local contests. In fact, it can be a bit overwhelming to sift through all the options. So here's a rundown of some of the races I think are worth your time. Some I've run in and others I just want to.
Leaping Leprechaun 5k:  This race, typically around St. Patrick's Day every year, was my first of the season. Nothing like a nice, relaxed 5k with 1,000 of your closest green-clad friends to kick off the race season. Check out some of the outfits from this year's race here. Oh, and did I mention they had out beer at the finish line? Kinda awesome.
Traverse City Trail-Running Festival: This sounds like a great event. Friday night there is a kids' race and 10k relay (where you'll find almost the entire Northern Swag crew!) and Saturday there's an 11k, 25k, and 50k. The VASA trails are my hands down favorite place to run. Over the last decade I've put in hundreds of miles there and never get sick of it. This race also boasts beer afterwards (sensing a theme?). If you're interested hurry up and register, the event is this week.
Glacial Hills Hike, Bike, & Run: This event on Saturday May 4th is hosted by the Grand Traverse Regional Land Conservancy and will be showcasing the trail network at Glacial Hills just outside Bellaire. So grab your running shoes or mountain bike and head out and join us for what I'm confident will be a great time. I wouldn't be surprised if there were beers to be had afterwards at Short's, just a few miles away.
Shanty to Short's: So yeah, you can call me a homer for promoting this Short's race based on the fact that you knew I loved Short's & actually now work for them, but whatever, this race sounds fun. Most of all because I've heard it's pretty much all downhill and ends at a brewery. That's all I know about it, but what else do you need to know? If you find me at the race and mention Northern Swag I'll buy you a beer afterwards. See you May 11th.
Bayshore: Possibly the most popular race in the TC area. This event has a 10k, half marathon, and full marathon, all along beautiful East Bay. It's traditionally on Memorial Day weekend & I have traditionally never run it. I don't know why. Maybe because Memorial Day seems too early for me to be half-marathon ready and a 10k isn't worth interrupting my 3-day-long drinking weekend.
Solstice Half Marathon:  Like the Trail-Running Festival, this is another Endurance Evolution event. Saturday June 15th there is a half marathon and 5k. The half mary runs around Glen Lake and includes a run up Inspiration Point (anytime a hill has a name you know that can't be good). Barring injury I'll be at this race and am really looking forward to it. I actually prefer to run on trails, but this one sounds like a lot of fun and runs near Sleeping Bear Dunes, which in case you live in a cave, is America's most beautiful place.  So I'm making an exception. Hopefully my decrepit hips and knees don't mind.
Cherry Festival 5k & 15k: Another local classic. Both distances feature running along the water. The 15k includes a climb up McKinley Hill right around the halfway point so don't skimp on the hills during your training runs The 2013 races are on Saturday July 6th.
Friends of Fishtown 5k: I've never run this one, but will likely be there this year on July 20th. Sounds like a fun day supporting a great local historic area, getting some exercise, and then hanging out in Fishtown & Leland.
Grand Island Trail Marathon: July 27th on Grand Island (a short ferry ride north from Munising). This race requires a bit of travel, but sounds to be more than worth it. I was signed up a few years back, but tore my ACL a couple weeks prior to race day. I"m hoping to still do it one day. This is definitely an area to make a weekend out of. Munising is minutes away from Pictured Rocks National Lakeshore, one of my favorite places in the world. And Marquette, another favorite destination, is less than an hour away. Friendly race advice: I was told to tie bells to my shoelaces to "shoo" away the bears.
Port Oneida Run: Another race I'm not familiar with, but may show up for in 2013. An August weekend (race is on the 3rd) spent in and around Port Oneida is a weekend well spent. I can almost guarantee a post-race trip to Art's for refreshments.
Crystal Lake Team Marathon: August 10th in Beulah line up with 4 friends for this team marathon. The first 4 runners will tackle 5 miles with the anchor running the final 6.2 miles. I've never run this one, but my dad actually has it on his annual list of races. Side note: my dad is 60 and can likely smoke me. The race circles around Crystal Lake which is not only beautiful, but might be warm enough to swim in by August.
If you're not completely exhausted at this point in the summer there are a couple post Labor Day races worth checking out, but that's for another post. Hopefully the info here is useful and if you spot me at one of these events please take the time to say "hi!"
Copyright &copy Northern Swag. Hosting by SodaServer.com