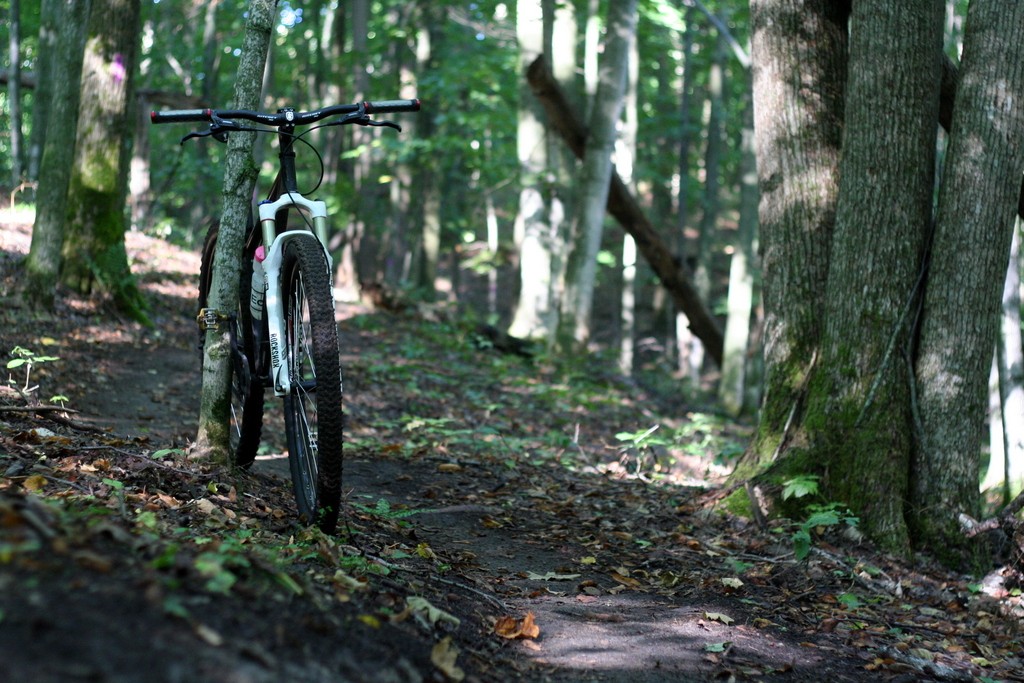 As summer winds down and those days at the beach become less frequent, one great way to spend your weekend days is out on some of Northern Michigan's primo mountain-biking trails. This area is quickly becoming a cycling destination with the amazing trail networks right in our backyard, including the VASA, Muncie Lake Trails, and the Big M. Throw in one of the country's premier races, The Iceman; the early season tune-up Mud, Sweat, and Beers; & the inaugural X100, and riders head here from all over the state to get their fix of singletrack and speed. But a recent newcomer to the mountain biking scene is currently the talk of the locals; that would be Glacial Hills, just outside the quaint village of Bellaire.
While hiking around Glacial is a great way to spend an afternoon, tearing it up on your mountain bike is why this place is quickly becoming one of the go-to spots in Northern Michigan for riding. The singletrack was cut in a way to make it flow smoothly while flying around on your bike. There aren't any super-steep climbs or hairy descents, it's just smooth and fast, all the way around. And while it definitely does get your heart pumping, it would be an enjoyable ride even for the novice cyclist as there isn't anything technical out there that'll cause you to hesitate. In fact, trying to describe how fun this place is to ride is pretty difficult, so check out the video below (that I shot with a camera strapped to my helmet) to get an idea.
Details of one of my ride's out at Glacial are in the photo gallery below. And here's a link to that ride on Strava.
If there was a knock on Glacial it would be that some of the new trail is being cut a little wide, so it isn't singletrack, but it is still a blast to ride and you can actually open it up a little bit more than on the tighter stuff. Just be careful as there are often hikers out there as well as other cyclists (the trail isn't directional, meaning you can ride either clockwise or counter-clockwise).
Even better yet is the recent addition of miles more of trails, all located on the Vandermark Road side (trail map). Rumor is that eventually there will be 20+ miles of trails. Also worth noting is that these new trails have a trailhead at Orchard Hill Road, meaning you can hop on the asphalt and after 5 minutes of pedaling, you're in downtown Bellaire. Best way to make an epic day on the trail even better: drinking Michigan craft beer.
You can access Glacial Hills from 3 trailheads. Eckhardt and Vandermark roads both have parking lots and both of these roads are accessible from Bellaire Highway. Orchard Hill Road is on your left as you head north out of downtown Bellaire.
A ride at Glacial Hills on a crisp day during color season is an easy way to make you forget all about summer!
Copyright &copy Northern Swag. Hosting by SodaServer.com