A Look Back – Year In Review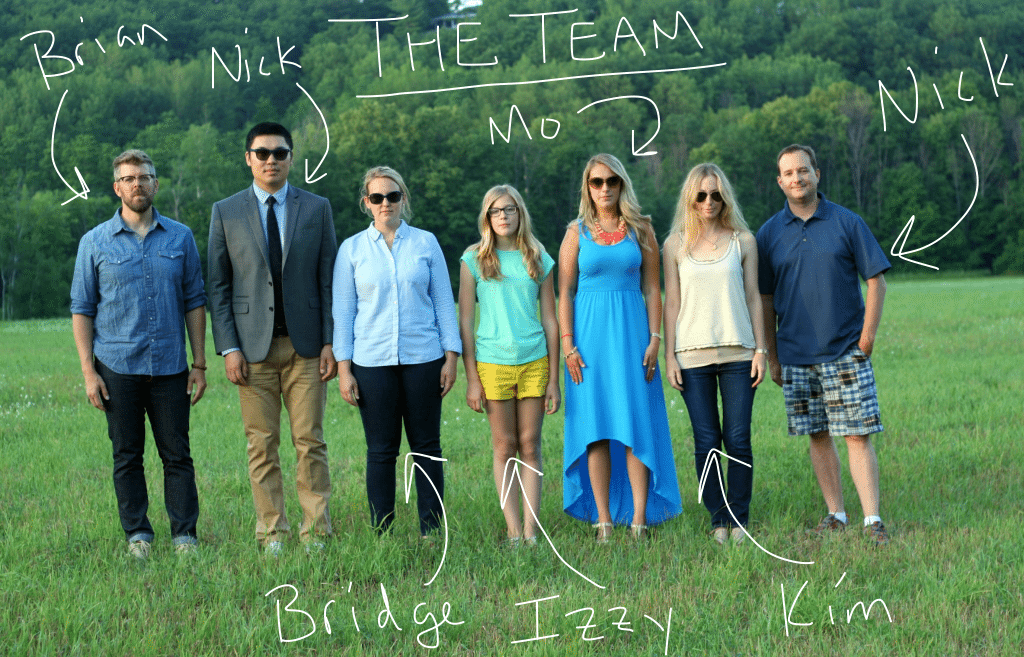 So yeah, wow. It's been a year already. Our 1-year anniversary approaching wasn't even on our radar (time flies when you are old). But once we realized we were approaching the anniversary of events we had already blogged about, we started getting all nostalgic and weepy (Brian especially). So here are some outtakes from our recent bio photo shoot at Hickory Meadows, a little recap of how we got started, how we define "Northern Swag", and what our first year means to us (& hopefully you).
What we decided we wanted to do when we started Northern Swag was simple:  share what we love about Northern Michigan with our readers; its people, places, eateries, and local happenings. And we share everything here purely out of being in love with this area. You see, we all do this in our spare time, a hobby of sorts for us. We all have real jobs, families, lives, responsibilities. But we have a passion for checking out everything this amazing area has to offer and we enjoy sharing that with all of you. And hopefully that's rubbed off on you.
This blog went live on June 27, 2012, with two random posts (one on dune jumping, cause what's more fun than dune jumping?! And one on pitting cherries with a stick, cause what's more random than that?).   There was a lot of work leading up to those two bits of arbitrary Northern Michigan life being shared out on the interwebs. And the large majority of that work was done by individuals that had no idea how to create a blog or website.
I'll paraphrase an early conversation that took place in the halls of Northern Swag:
"I'm thinking of starting a blog."
"Do you have a twitter handle?"
"No."
"Well, you need one."
"Why?"
"I don't know, to tweet?"
See? Clueless.
Fortunately, the end of that conversation was an offer to help from one clueless individual to another, and the excitement grew and spread. One of those people it spread to, lucky for us, was Nick, who shortly thereafter helped build out the site (you rock, Nick!), and to tell us when we broke it thereafter (IT school 101:  It is always user error).
And over the course of that year we've had a lot of successes and some disappointments, but ultimately we're very proud of what we've accomplished here. We published 134 posts on the blog. We've gained almost 1,300 "likes" on Facebook and over 600 followers on Instagram, where we've posted over 250 photos in the past year.
Some of our favorite post series to share with you have been Twigs and Swigs (suggested combos of hikes and places to grab a drink after) and our Swag spottings (where the subject is you all in your unique Northern Michigan style). Each and every one of us has explored a new spot in Northern Michigan spurred on by this blog.  We hope you have too and would love to hear your favorite parts of Northern Swag this past year!
We have reveled while seeing Swag's following grow over the last year and literally get giddy when we hear people checked out a new hike or restaurant after reading one of our posts.  We are pretty darn lucky to live here and the excitement we all have for this area is contagious. So as long as you continue to hang out and read our posts and check out our photos, we'll continue to push it out there onto the interwebs.
We want to give a shoutout to all our readers (especially those that provide feedback (Thanks Mom and Dad); it's what keeps us chugging along) and to our team of contributors (Nick 1, Nick 2, Mo, Bridge, and our child labor force; Izzy and Cora).  You guys all rock.
Cheers to another year!
Kim & Brian
Copyright &copy Northern Swag. Hosting by SodaServer.com