If you haven't checked out the Sleeping Bear Heritage Trail there's even more reason to head out and enjoy a walk or bike ride (or ski in the winter). The trail now runs all the way from Glen Arbor to Empire, with an addition of approximately 5 miles opening last weekend (this new section starts at about mile 4.5 on the route map below). Until this newest section opened, the trail coursed 4.5 miles through the woods & dunes from Glen Arbor to the Dune Climb. The length of the entire trail now is a shade over 9.5 miles (editor's note: the trail does stop about a mile or so before Empire, but it ends at Lacore Road which runs right into town).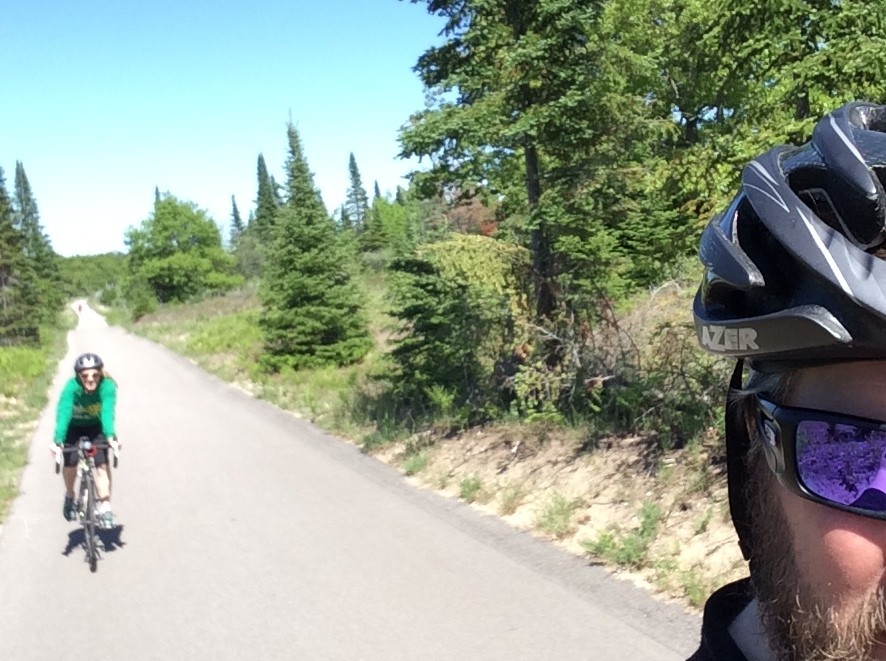 The newly opened trail to Empire feels hillier than the original section (& appears that way based on the elevation profile below), but there were plenty of casual riders out on their cruiser bikes chugging up the hills. Maybe my legs were constricted by all the spandex I was sporting. Next time out I'm going with tube socks and cargo shorts. The trail also crosses North Bar Road so you can bike to North Bar Lake without having to deal with the tiny parking lot full of tourist type folks.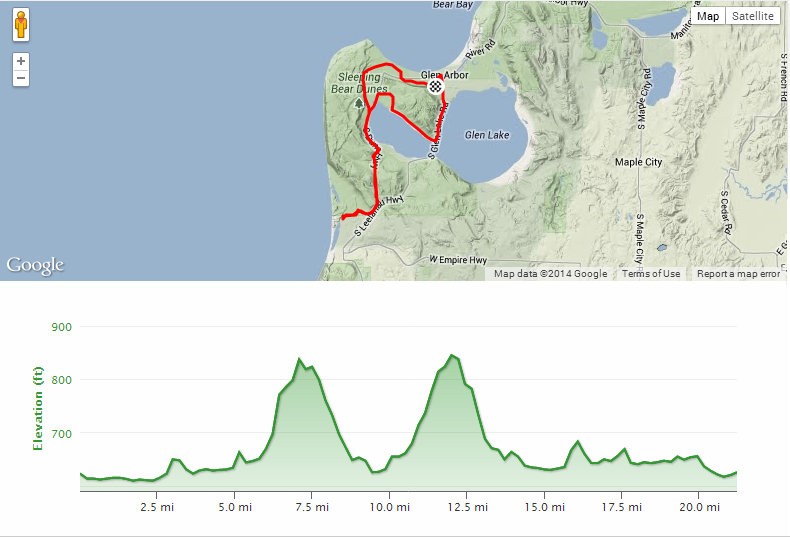 Additionally, BATA is again offering their Bike and Ride program this summer. For the normal fare of $3 you can pack your bike on the bus and take it up to Empire and Glen Arbor, ride the trail one way (or both), and then hop back on the bus afterwards (stay tuned to this blog for more info on that program soon).
I can't say enough about how beautiful it is along the trail. It changes between the backwoods of the National Lakeshore; grassy, flower-covered hills; and sandy, rolling dunes. And to be able to get a solid cycle in (19 miles for an out and back) without putting your wheels on a road is pretty sweet. For our ride last weekend we started in Glen Arbor and rode the entire length to Empire before turning back. On the return we hopped off the trail at the Dune Climb (at mile 15 on the route map above) and hugged Little and Big Glen Lakes before cruising into Glen Arbor. Post ride chow at Joe's Friendly Tavern in Empire and then a bonfire at Empire Beach made for a pretty great northern Michigan day.
Copyright &copy Northern Swag. Hosting by SodaServer.com