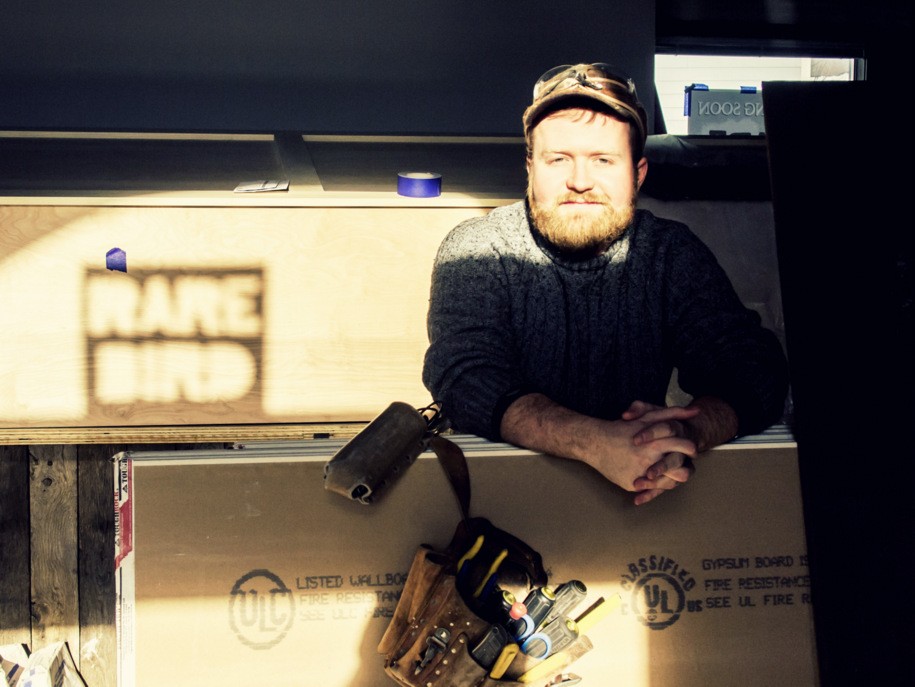 Local premier-birder Nate Crane's pursuit of the "rare bird" took a different twist several years ago. Unfulfilled earning a living in his first career of insurance, Nate began working on the necessary prerequisites to obtain a masters degree in evolutionary biology and ecology at Cornell University (of ornithology fame). To earn some cash he found himself managing the bar at a local microbrewery and thinking to himself, "You know? I could do this!" Fast forward to today and you'll find Nate working his tail feathers off seven days a week towards opening day of his new pursuit: Rare Bird Brewpub at 229 Lake Avenue in Traverse City.
Rare Bird won't just be another taphouse or brewery, but a unique blend of both that you won't find elsewhere in the area. They'll offer 35 beers on tap, 6-10 of which they'll brew in house, with the rest of the lineup being filled by the burgeoning craft beer industry in addition to wine, cider, and liquor. The brewpub is situated in the old TC Canning building next to Om Cafe (formerly the Loading Dock). Nate has reclaimed some of the history of the fruit cannery by renovating the interior with old apple crates obtained from local farms. The space will include a relaxing lounge area, along with U-shaped, high-back booths, and big open tables milled from the remains of a Cottonwood tree that was on a friend's farmhouse in Northport (what was once the tallest tree in Leelanau County). We were lucky enough to get a sneak preview of the unfinished space, and while it was still a work in progress, we're eagerly anticipating the finished product.
Rare Bird brewer and co-owner, Tina Schuett, originally from Wisconsin, will focus on American-style ales. When the duo found their brew equipment from Cape May Brewery in New Jersey, a primo birding location with its own birding festival, they knew it was meant to be.
A menu of fusion pub food (think classic burgers, Mexican-inspired dishes, and Asian-influenced tastes) will also be offered late into the evening – 1 a.m. on the days the bar stays open until 2 a.m. Nate, a fellow nacho connoisseur, also personally promised to have the best nachos in the area (excitement uncontrollable).
Crane recalls that it hasn't been an easy process. The venture has been in the works for about 10 months. He also had to resort to crowd-funding (a successful $19,000 IndieGoGo campaign) in order to raise capital when his SBA loan got stalled with the government shutdown. Not only has he relied on his own elbow grease and handy-man skills, but the support of a group of willing friends who have been making the push towards opening the doors. Special shout-outs go to Nate's fiancée Hanna Taylor for her support throughout the process; Rory Carroll, who has made the drive up from Detroit (where he works as a senior editor for Autoweek magazine) many a weekend; Rod Lowes, a renaissance man recently retired from TCAPS who religiously comes in to lend a hand daily after dropping his wife off at work; and Del Whitman, a local gunsmith – his name is Del and he fixes guns, need we say more?
While this project has consumed all of Nate's free time as of late, he still tries to fit in time to spend with his feathered friends, a passion instilled in him at an early age while building bird boxes with his grandpa and spending time with Marie Hoffman, the bird lady of Central Neighborhood (where Nate grew up). He spoke to us of hopefully getting away this winter still for a birding trip to the eastern UP. When searching out our avian companions locally, he surprised us by suggesting we visit the Boardman River Trail south of the YMCA, or Wuerfel Park near Chums Corners where there have been quite a few Snowy Owl spottings. When not out birding, Nate can be found hiking through Sleeping Bear Dunes National Lakeshore or fishing on Long Lake. And when asked where he'd grab a pint other than his own taproom, he had plenty good to say about what's on tap at 7 Monks, Brewery Terra Firma, and Short's Brewing Company.
So whether you see Nate Crane behind the bar or out on the trails with his binoculars, we believe he's one of those individuals making Northern Michigan one of the best place there is to live, eat, and play: so please say thank you (how to sign thank you can be found here so as not to disturb the birds) when you cross paths with him.
Stay tuned for updates on Rare Bird's opening day (hopefully in February) on their Facebook page and see more photos of the process in the gallery below.
Copyright &copy Northern Swag. Hosting by SodaServer.com