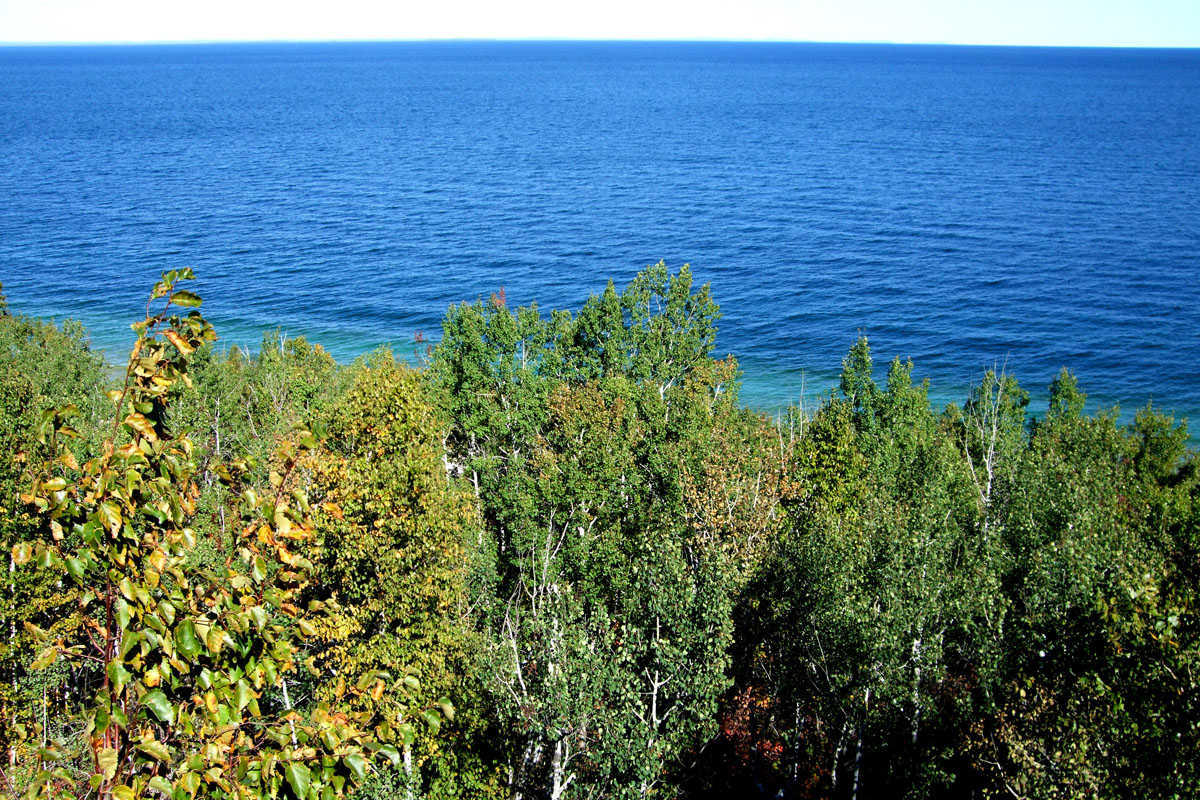 My annual vacation to Drummond Island Michigan started when I was around 12 years old. My parents always made the 4 hour trip from Traverse City an adventure. We start off stopping in Atwood, MI for doughnuts, and sweets at Friske Orchards. Then head to Charlevoix for exactly one hour of shopping (the allotted time given by my dad which is essential for my mother and me). After that, a quick jaunt to Cheboygan where we check out  one of the largest nautical novelty shops around, Sea Shell City. After stocking up on shells we hike up the World famous Castle Rock in St. Ignace. The Rock rises almost 200' above the surrounding area with amazing views of over 20 miles. Followed by a trip to the Mystery Spot which is unexplainably awesome.
Drummond is an oasis of wildlife. Deer are a very common sight, with the occasional bear lumbering by. Deer hunting is the reason my family purchased property and built a cabin on the Island. They discovered the area years ago and fell in love with the peaceful, simple atmosphere that everyone desires while on a vacation (along with all the deer!).
By the time we hit the D.I. Ferry and arrive on the Island it takes about 20 minutes to get to our cabin. A stop at one of the 3 local bars is necessary after the long drive. Chuck's Place Bar and Grill is truly the definition of "down home" country atmosphere. The friendly hospitality is as great as the food! Another stop during our trip is a place called Esther's Authentic Mexican Food. Esther was born and raised in Mexico and can cook up some spicy delicious treats. Typically one of the nights we stay in and my Dad deep fries just about anything for dinner. My favorites are chicken wings, French fries, and deep-fried Oreos!
While on Drummond we pack up the cooler and take a day trip ride on the four wheelers up to Marblehead Mountain. Marblehead is located at the easternmost point of the Upper Peninsula. It rises only 100′ above the waves but commands sweeping views of northern Lake Huron and Canada. Marblehead is a truly remarkable place, well worth the muddy, wet, and steep excursion. There are so many other things you can experience on the Island. Ricks Sports Shop for hunting and fishing advice; swimming at Big Shoal Beach; golfing at The Rock, where you are guaranteed to see deer; hiking the trails searching for Puddingstones, a beautiful and rare rock found on the Island; Shopping at the Four Corners (Drummond's "downtown"); shooting skeet; and of course enjoying a drink with family and friends around the fire.
One of my absolute favorite parts about Drummond are the people. Every single person waves at you when they drive by! They are so incredibly welcoming and love to talk about their unique paradise. I will admit, after spending a few days it's hard to leave such a serene dwelling. Without city light for miles the stars are brighter than you will ever see. I'm so lucky that Drummond Island will be a part of my life for many years to come.
Drummond Island is located one mile off the eastern tip of Michigan's Upper Peninsula, only 60 miles from the Mackinac Bridge. It is one of the largest Islands in Lake Huron & the largest freshwater island in the United States.  Over two-thirds of the island is state land, so there is lots of access to the outdoors. Visitors to the island can arrive by airplane, boat, or ferry (departs from DeTour Village and can carry your car or snowmobile). I suggest you visit!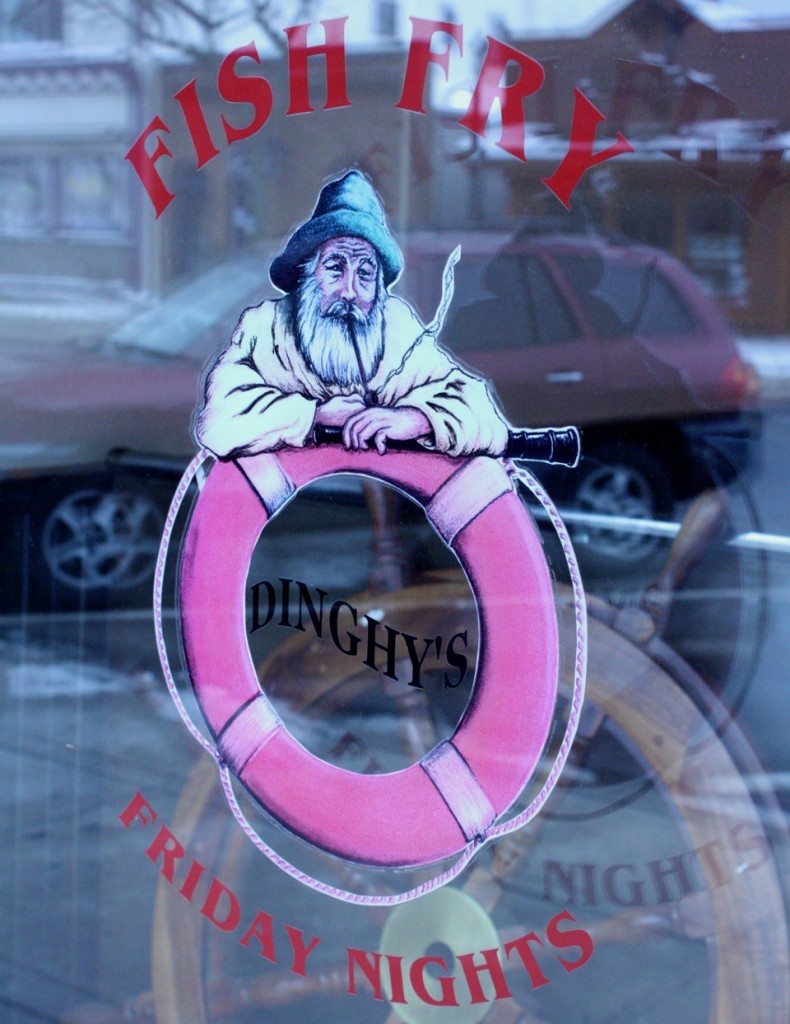 Every year at about this time in late winter I find myself feeling good-old Catholic guilt because the only reason I remembered Lent was starting is because I saw the BK Big Fish on the Burger King drive-thru menu. Burger King makes every attempt to profit on the fact that the only meat Catholics eat on Fridays is fish. And after the guilt I start to feel anxious about what I need to "give up" this year for Lent (another Catholic Lenten tradition) and how I need to attend church more often but then I remember – Lent means sacrifice penitence Friday Fish Fries.
My friend Michele and I decided to take a drive in search of the best Fish Fry Northern Michigan has to offer. We decided to stay in Benzie County, since there are plenty of under-the-radar places to be discovered in the small little towns along 31. First stop, Dinghy's Restaurant and Bar in Frankfort.  Dinghy's will fill up your tummy without depleting your wallet. A little history about Dinghy's, which has been in business for 19 years: Dinghy's became popular [and still is] for its meats that they smoke fresh in their own smoker using local hardwoods. Steve Christian has been owner of Dinghy's for the past 14 years. Customers come from far and wide to enjoy the experience there. During the early years, they started serving only BBQ ribs and pulled pork sandwiches. The nautical theme highlights the history of the ferry boat fleet that steamed through the channels of Frankfort harbor. The old car-ferry signs hang from the ceiling in the restaurant.
About the fish:
Our adventure actually took place on a Sunday, not Friday. But I'm pretty sure you can actually eat fish fries any day of the week. We decided to try the fish sliders [which only cost $6.95] & they didn't disappoint. The sliders are lightly breaded and deep fried to golden brown and served on a mini roll. They come topped with fresh cut lettuce, tartar sauce, and pickles. A great, light snack or lunch. If the sliders are this delish, we'll definitely be back for the Friday Night Fish Fry!
Next stop: The Cold Creek Inn, located in the Village of Beulah, on the beautiful Crystal Lake. This restaurant is well known for their perch and planked whitefish, cooked on a seasoned maple plank. All of the ingredients used in their dishes are homemade. Michele and I split the dusted perch. We were impressed by the fresh flavor the fish offered with such a light batter.  It seemed a bit healthier with a wonderful taste.
We highly recommend stopping by the Cold Creek Inn. What sets it apart from the other stops for us is the atmosphere. Yes, it's a more remote place that looks like it only lets in locals, but the bartenders there are always so friendly as are the patrons. Numerous stops there, we always end up chatting it up with a patron.  [Also, PBR is on tap…along with local selections like a Right Brain Brewery seasonal] The wings will rival the best you've had anywhere in town- with a sweet/hot garlic sauce. The bomb.
Off the beaten path we found our way to Karlin Inn, located in the small town of Karlin, just past Interlochen. This family owned restaurant has all you can eat fish on Friday and Saturday nights! The Karlin Inn is very quaint with the friendliest down home service you can imagine.  The price is reasonable and the portions are plentiful.
About a mile and a half from Interlochen Corners is the Hofbrau. The Hofbrau has been part of the rich history of Grand Traverse and Benzie counties for over 75 years. The all-you-can-eat Friday fish fry is Ice Atlantic Cod, beer battered, fried, and served with fries & slaw, all for $12.99. A great deal we will be hitting up one of these wintry Friday evenings.
The Jolly Pumpkin out on Old Mission Peninsula also does an outstanding perch dinner. The perch served at this restaurant are giant and served in heaping piles! Definitely a dinner for when you have an appetite. Again, the batter was light and crisp and the fish was beautifully cooked.
If you have a major hankerin' for a Friday Night all-you-can-eat fish fry, all of these places will not disappoint and are full of character and Northern Michigan charm.
What's better than visiting a bar you've heard people talk about for over 20 years but never stepped foot in? Absolutely nothing! I was thrilled to travel off the beaten path to visit Peegeo's for the very first time. If you were wondering where it is, try Googling it. My dad said his buddies regularly snowmobiled over for food and drinks back in the day. He wasn't kidding because back in the day was 1983 when they opened!
Peegeo's is known for their cheesy bread, pizza, and wings. I'm happy to report I enjoyed all three. The cheesey bread could easily block you up for days and the wings were the perfect mix of saucy and hot. We decided to try two pizzas; first, Todd's Spud Lover Pizza, which was covered with sour cream and topped with shredded potatoes, bacon, onion, and three cheeses. Amazingly delicious and even better for breakfast the next day. Second, the Deluxe Pizza, everything you would want baked to perfection. Add in a few pitchers of PBR, live music on the
outdoor deck, and I can't think of a better place to spend an evening.
Some say Peegeo's is a dive bar, I like to think of it more as a hidden gem nestled in the middle of Spider Lake with good food, spirits, and fun.
Copyright &copy Northern Swag. Hosting by SodaServer.com