Fish Fries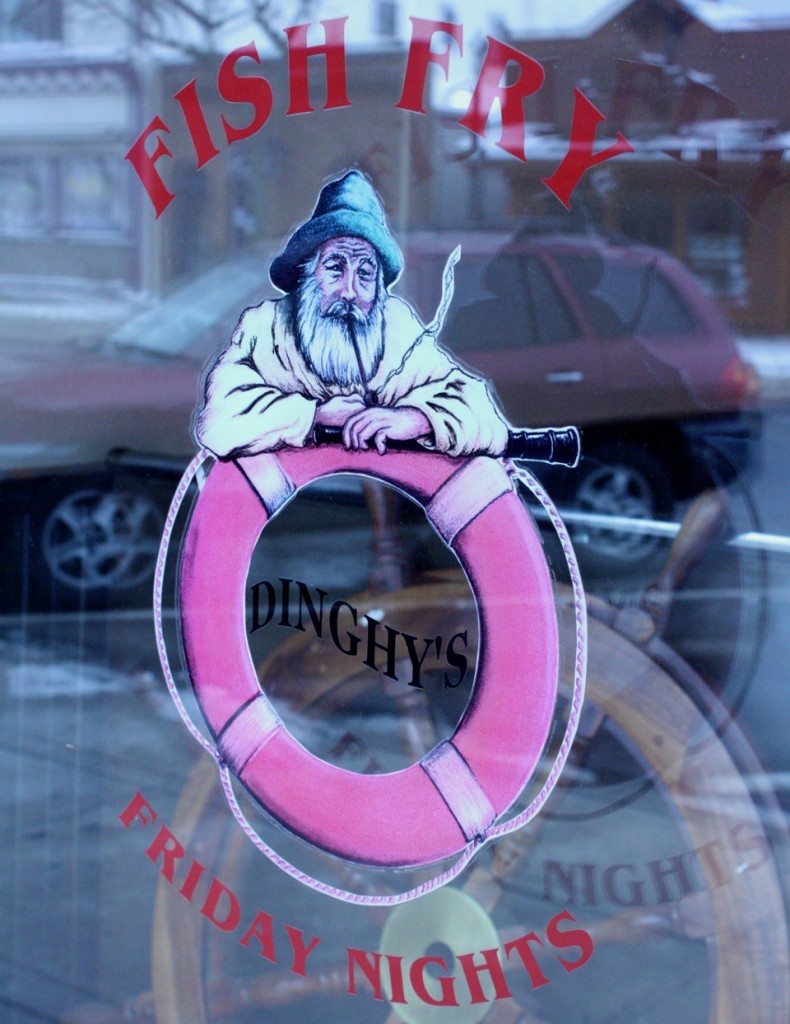 Every year at about this time in late winter I find myself feeling good-old Catholic guilt because the only reason I remembered Lent was starting is because I saw the BK Big Fish on the Burger King drive-thru menu. Burger King makes every attempt to profit on the fact that the only meat Catholics eat on Fridays is fish. And after the guilt I start to feel anxious about what I need to "give up" this year for Lent (another Catholic Lenten tradition) and how I need to attend church more often but then I remember – Lent means sacrifice penitence Friday Fish Fries.
My friend Michele and I decided to take a drive in search of the best Fish Fry Northern Michigan has to offer. We decided to stay in Benzie County, since there are plenty of under-the-radar places to be discovered in the small little towns along 31. First stop, Dinghy's Restaurant and Bar in Frankfort.  Dinghy's will fill up your tummy without depleting your wallet. A little history about Dinghy's, which has been in business for 19 years: Dinghy's became popular [and still is] for its meats that they smoke fresh in their own smoker using local hardwoods. Steve Christian has been owner of Dinghy's for the past 14 years. Customers come from far and wide to enjoy the experience there. During the early years, they started serving only BBQ ribs and pulled pork sandwiches. The nautical theme highlights the history of the ferry boat fleet that steamed through the channels of Frankfort harbor. The old car-ferry signs hang from the ceiling in the restaurant.
About the fish:
Our adventure actually took place on a Sunday, not Friday. But I'm pretty sure you can actually eat fish fries any day of the week. We decided to try the fish sliders [which only cost $6.95] & they didn't disappoint. The sliders are lightly breaded and deep fried to golden brown and served on a mini roll. They come topped with fresh cut lettuce, tartar sauce, and pickles. A great, light snack or lunch. If the sliders are this delish, we'll definitely be back for the Friday Night Fish Fry!
Next stop: The Cold Creek Inn, located in the Village of Beulah, on the beautiful Crystal Lake. This restaurant is well known for their perch and planked whitefish, cooked on a seasoned maple plank. All of the ingredients used in their dishes are homemade. Michele and I split the dusted perch. We were impressed by the fresh flavor the fish offered with such a light batter.  It seemed a bit healthier with a wonderful taste.
We highly recommend stopping by the Cold Creek Inn. What sets it apart from the other stops for us is the atmosphere. Yes, it's a more remote place that looks like it only lets in locals, but the bartenders there are always so friendly as are the patrons. Numerous stops there, we always end up chatting it up with a patron.  [Also, PBR is on tap…along with local selections like a Right Brain Brewery seasonal] The wings will rival the best you've had anywhere in town- with a sweet/hot garlic sauce. The bomb.
Off the beaten path we found our way to Karlin Inn, located in the small town of Karlin, just past Interlochen. This family owned restaurant has all you can eat fish on Friday and Saturday nights! The Karlin Inn is very quaint with the friendliest down home service you can imagine.  The price is reasonable and the portions are plentiful.
About a mile and a half from Interlochen Corners is the Hofbrau. The Hofbrau has been part of the rich history of Grand Traverse and Benzie counties for over 75 years. The all-you-can-eat Friday fish fry is Ice Atlantic Cod, beer battered, fried, and served with fries & slaw, all for $12.99. A great deal we will be hitting up one of these wintry Friday evenings.
The Jolly Pumpkin out on Old Mission Peninsula also does an outstanding perch dinner. The perch served at this restaurant are giant and served in heaping piles! Definitely a dinner for when you have an appetite. Again, the batter was light and crisp and the fish was beautifully cooked.
If you have a major hankerin' for a Friday Night all-you-can-eat fish fry, all of these places will not disappoint and are full of character and Northern Michigan charm.
Copyright &copy Northern Swag. Hosting by SodaServer.com