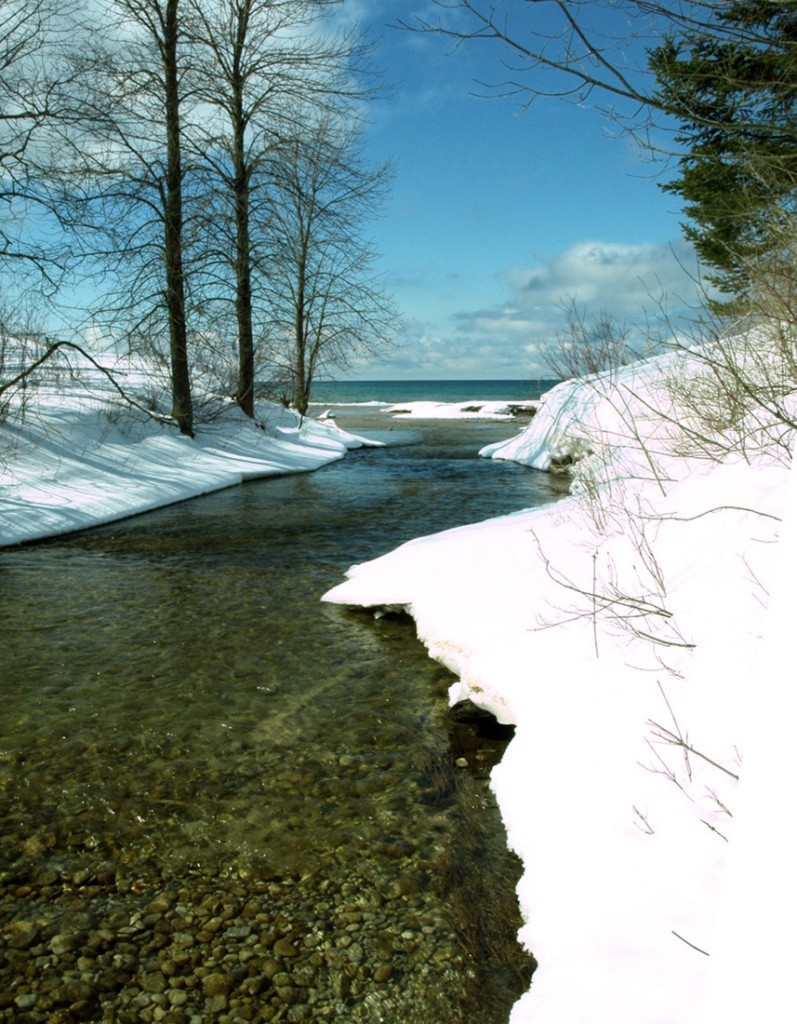 If you've been to Esch Beach you know Otter Creek empties out into the big lake there. The mouth of the creek is always beautiful and never the same. It's a crucible of many natural forces conspicuously at work and it's nearly impossible to discern the series of events that aligned to create the exact shape of sand, water, and stone at the mouth. Did wave action trump water currents and wind? At what point did flowing water and erosion take over and carve this specific channel through the beach?
I've always loved Esch Beach, it's easy to love, but I'd also been curious about what lies upstream of Otter Creek's mouth for a long time. If you are curious as well and want to know a bit more about where the water that trickles into Lake Michigan comes from, there is a 4.6 mile loop, part of the Platte Plains Trail System, that will take you back to Otter Lake and beyond toward the creek's headwaters. The trail skirts a cedar swamp, which is a hub for innumerable deer highways, and meanders through pine plantations, hardwood forests, open fields, and eventually circles around Otter Lake. The lake is surprisingly large and only a couple folks were out ice-fishing on it, probably because it's pretty hard to get to with a vehicle.
I snowshoed the loop and it was a nice way to travel because I could easily go off the track and look at "shiny objects" as I wished, but I followed a group on skis and they seemed to be having a great time as well. I've never done this trail in the summer, but I imagine it would be an amazing trail run and hope to try it out. Let me know what you think about this place and enjoy!
Copyright &copy Northern Swag. Hosting by SodaServer.com