Valley of the Giants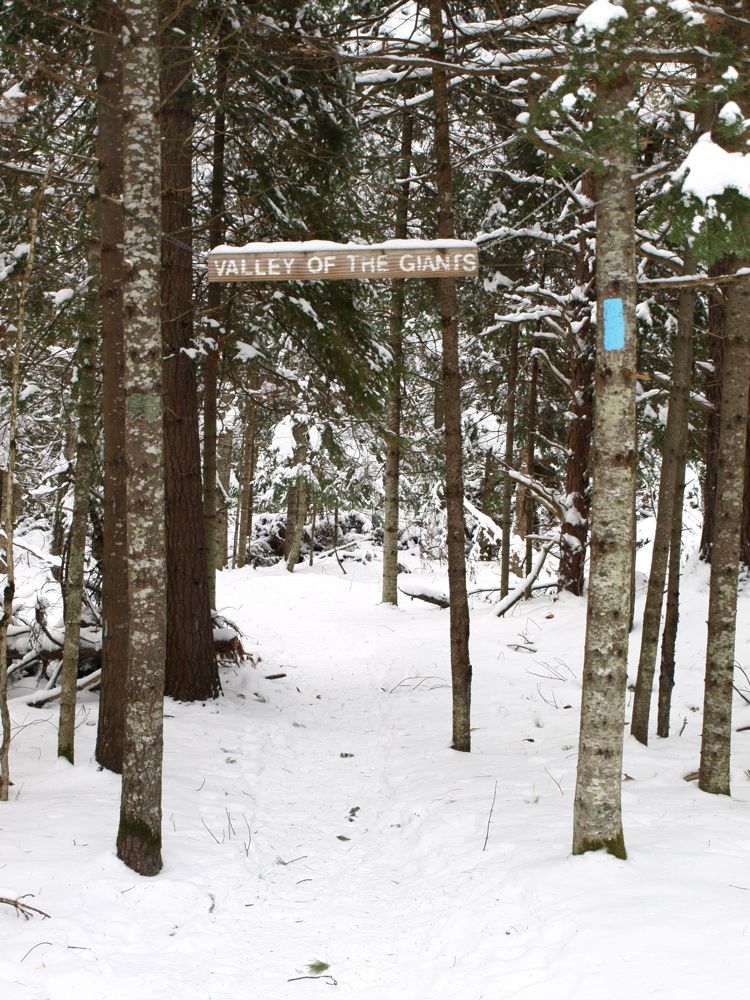 Valley of the Giants: If your inner child is even remotely still with you, a mystical title like that should evoke imagery from the worlds of Harry Potter, Narnia, Lord of the Rings,  King Arthur's Camelot, or perhaps the vacant lot in your childhood neighborhood. The local realm of these mythically-large fellows is a deep dark forest valley with a babbling brook and a secret entrance that only the most intrepid can find and enter. Our giants are massive White Pines who have observed and recorded the passage of time in this area for centuries.  Their size, silence, and amazing home cast an air of reverence over most everyone who enters.
The path through the Valley is a piece of  The North Country Trail maintained locally by the Grand Traverse Hiking Club. The footway is well maintained and respectfully wanders through sensitive wetland and riparian areas associated with 22 Mile Creek, an amazingly beautiful tributary to the Boardman River.
Is the Valley entrance really secret? Well, the Valley is close to home (located in the Traverse City State Forest Area southeast of Traverse City), but it isn't super easy to get to using information available on the web. But there is no mistaking the entrance once discovered, it is conspicuously marked by a hand-painted sign which hangs, in what seems to be, the middle of nowhere. It's remote enough that whoever took the time to make, schlep, and hang the sign is definitely on your mind. Over the holidays I spent three consecutive days attempting to get to the Valley of the Giants: one day I didn't make it, the next I just barely made it, and the last, made it there in about 15 minutes. So I'm torn. I feel as though maybe the giants are telling me something.  I want to share this place and could easily drop a pin on a map and post it so anyone could make it a quick afternoon hike. But should I rob folks of the hours of "backyard" exploration, the conversations had along the way, the euphoria felt upon finding it at long last?  Here's the deal I cut with the giants – if you wish to visit the Valley and care enough to leave a comment I'll send you the map!
Copyright &copy Northern Swag. Hosting by SodaServer.com