Road Biking in the County
I recently got a road bike. I'm pretty much in love and have been trying to cruise around "the County" as much as possible; enjoying the wind on my face, saying hello to the deer as I ride by, and feeling all Tour de France-like (until I get to a hill of course). There's no shame in granny gear, right?
I was recently introduced to the little road trip below and it is definitely becoming a favorite for good reason.  It is a hair under 20 miles and brings you by views (or photo-ops if you're a shutter addict like me) of Lime Lake, School Lake, and Bass Lake and Lake Michigan (with the addition of a couple quick out-and-backs).  For filler, the route provides plenty of gentle rolling hills and beautiful farmland.  The roads on this ride, for the most part, are less-traveled with a nice smooth and wide shoulder. That said, the folks at M-22 apparently had seldom traveled the busy, narrow, curving shoulder of cracked asphalt by road bike before coining the phrase "M22 is the feeling you get when you realize there is no other place you would rather be."  Might want to channel your inner Tour de France on that section because trust me there are other places you'd rather be.
Stay tuned for more routes and we would love to hear some of your favorites!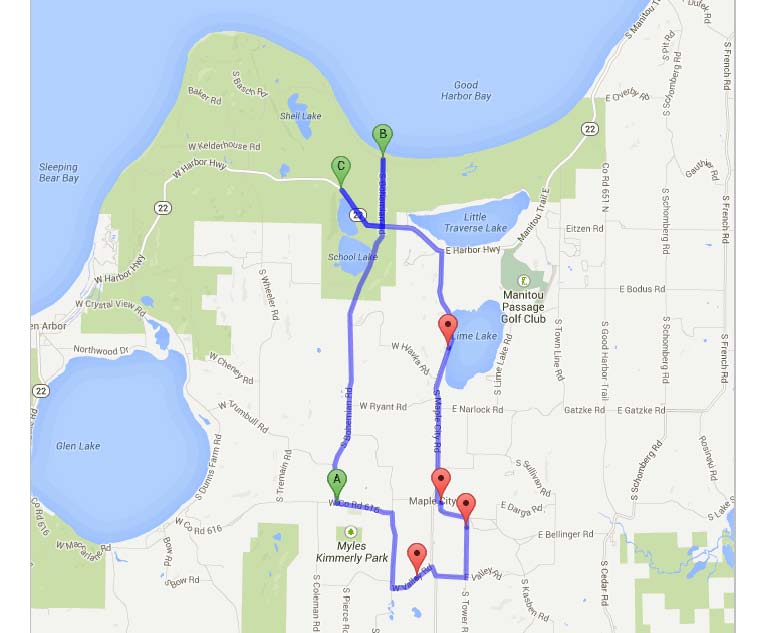 Specific route details here and photos of the scenery along the way below:
Copyright &copy Northern Swag. Hosting by SodaServer.com