The Locals: Matt Hall – mixologist and horticulturist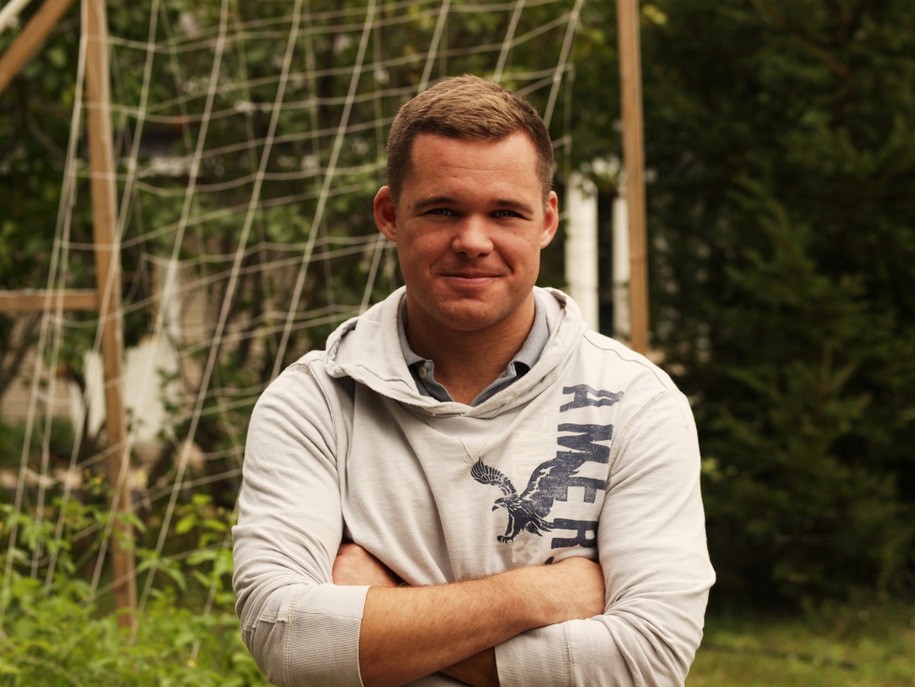 You may recognize Matt Hall. His friendly face is oft seen behind the bar at Red Ginger, where he shakes and stirs the very concoctions that put the happy in happy hour at one of downtown Traverse City's premiere restaurants. But there's more to Matt than the mixologist that never forgets a face of someone he's served. He is also mixing up plans to bring his own spin to the "eat local" food movement that incorporate his true passion: gardening.
"The answer to our food issues, whether they be concerns over factory farming practices, GMOs, or hybrids, will always be in our own backyards," Matt explains.
After taking classes at the Michigan State extension and understudying on a local farm, he knows his way around a raised bed. I got a personal tour of his own backyard system where he utilizes aggressive succession planting, a 20′ x 20′ hoop house with 8 raised beds, and a drip irrigation system to produce more vegetables than he knows what to do with (I call dibs on the acorn squash).
But Matt isn't stopping in his own yard. He sees a market in helping local residents plan, construct, install, and grow their own dream gardens. He has already provided on-site work to several people in the area, relishing in their excitement as plans come to fruition. Matt hopes to get his consulting business in full swing this coming growing season and says February is the perfect time to start planning. He also has some larger plans in the work that aren't quite ready for the public's ear, but stay tuned.
Matt thinks northern Michigan's interest in self-sufficiency and knowing where its food comes from is only increasing. That interest with the excitement that comes from growing plenty from nothing is a combo to be reckoned with. He plucks a small tomato off the plant in his garden and splits it open, showing me the seeds inside. "You see all those seeds? From one tiny tomato? And all those seeds will make more plants and more tomatoes and more seeds. It's exponential!"
I don't know about you, but I was sold. In fact I already have Matt working on a plan for my dream garden. (I will let you know how he does with planning one that will water and weed itself and grow vegetables that taste like s'mores thus avoiding the nightly "Eat your vegetables" conversation at our dinner table. That's not too much to ask is it?)
……………………………………………………………………………………………………………………………………………………………………………………………………………………………………..
With all of our people profiles, we like to ask a few standard questions that offer a little peek into folks' lives in Northern Michigan. See Matt's answers below:
Favorite restaurant in the area and your go-to menu choices there:
"Honestly, and this is gonna sound biased, but it is Red Ginger.  I love our cuisine, our drinks, and our service.  I don't think I could have worked in a place this long and not believe in what I was doing.
Usually I begin dinner with some apps like the calamari and beef ishi-yaki.  Then follow with a sashimi plate with some rolls like the tunagi and dynamite rolls.  Drink-wise I'm quite plain because I tend to stick with red wine such as Meiomi Pinot Noir (which is one of the best wines I've ever had and great price!)  If I do drink a cocktail it's usually Hendricks and tonic with half of a freshly pressed lime right into it, it screams summer."
Favorite place for some outdoor recreation:
Manistee River for canoeing/kayaking without hesitation.
How did you come to live/stay in the area?:
Born and raised in TC.  I've moved away plenty of times only to come back to this area and thankfully I have found a passion for what I am going into because it also allows me to be close to friends and family. TC is such a great place once you can get out there and enjoy what it has to offer and having lived outside of TC many times I came to realize how good we have it here compared to other cities.
Favorite Northern Michigan activities by season:
Summer – Canoeing/Kayaking/Beach
Fall – Bonfires, canoeing, road trips to see the colors
Winter – Vacation to a warmer spot
Spring – Garden planning (of course)
……………………………………………………………………………………………………………………………………………………………………………………………………………………………………..
Matt can be contacted about greening your thumb at hallma16@hotmail.com.
Copyright &copy Northern Swag. Hosting by SodaServer.com