Maple Sugaring Part 2, Sap Collecting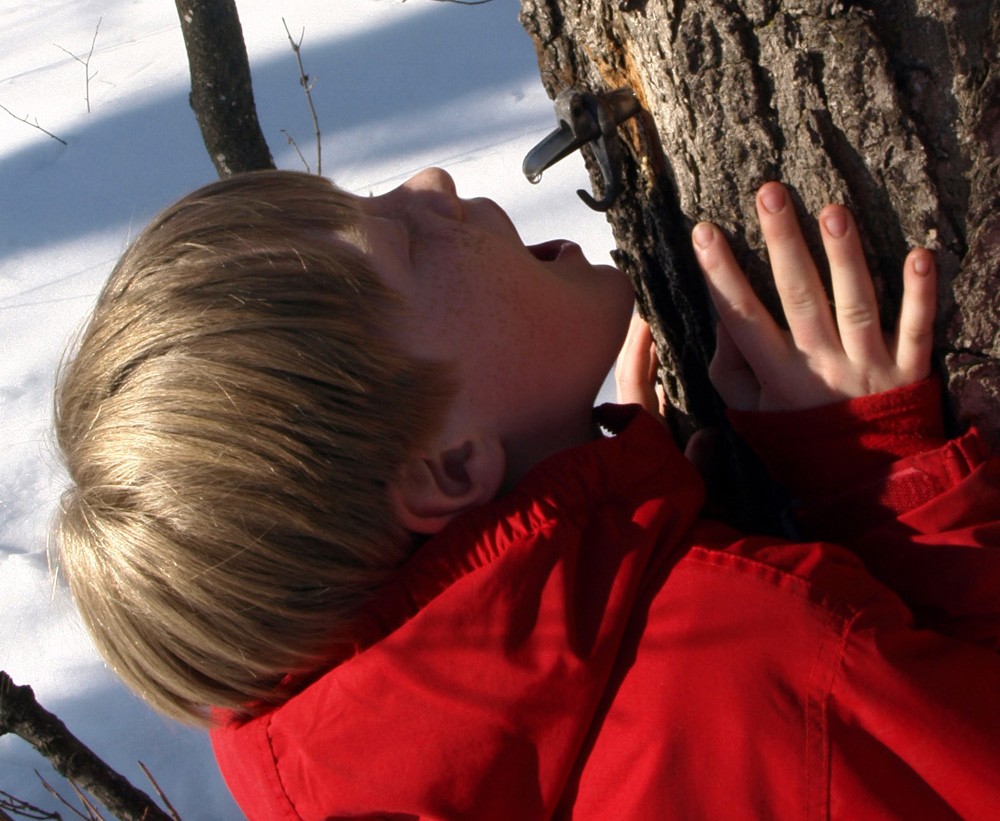 "A for sweetness, C for fullness." These are the grades most of the sap buckets received from my friend and co-worker Matt's kids, Sam and Abby,  the day I joined them. While this impromptu grading system wasn't scientific, it was fun to hear the grades called out, followed by the telltale clunk of the bucket lids closing as the kids moved from tree to tree. While Sam and Abby were honing their maple sommelier skills, Matt poured sap in to the waiting buckets on the sled and re-drilled a few holes for the occasional loose spile.
Collecting sap can probably be used as a metaphor for many things but what struck me was how this process starts, quite literally, with a single drop in the bucket and ends with, not an ocean, but definitely gallon upon gallon of the sticky stuff.
The drip, drip, dripping over the course of a day or two (if the conditions are right: freezing at night & 40 during the day) turns into several gallons of sap hanging off the tapped trees. In Matt's system, the tree buckets are emptied into pails on a sled that he moves, with some effort, from tree to tree. When the sled is full, the sap is poured into a 55-gallon drum at the edge of the sugar bush and is then dragged back to the trees for more sap until it's all collected. Matt's sugar bush is high up on a hill so he takes advantage of the change in elevation and runs the sap downhill from the drum through a hose to buckets below. The buckets are sealed and loaded into the back of his car. Matt is always adjusting his system and has designs on installing a "half barrel" of sorts right in the back of his car for sap season, which would eliminate the need for loading and unloading five-gallon buckets of sap…. but where would Sam and Abby sit? I wouldn't be surprised if a dedicated vehicle is in the future too…. because, for Matt, this is definitely a family affair. Stay tuned for sap-boiling and syrup-canning!
Copyright &copy Northern Swag. Hosting by SodaServer.com