The Beer Thirty Guide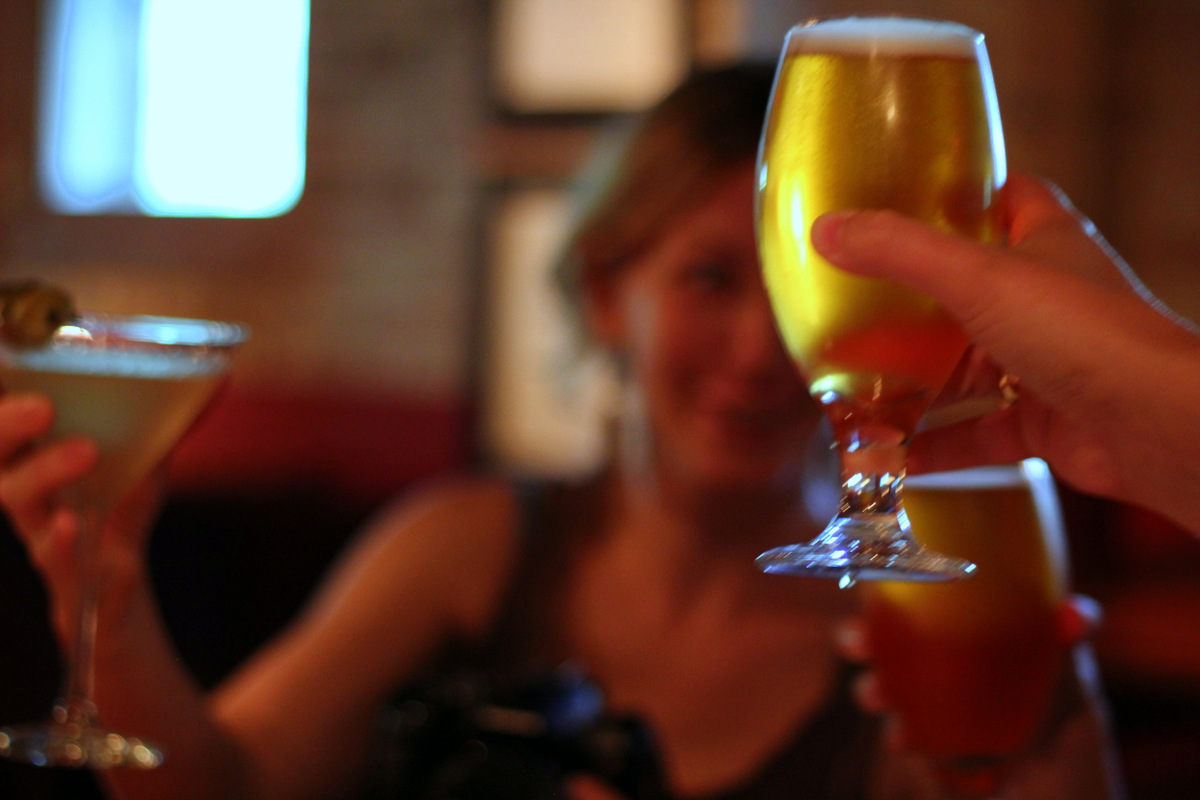 It's called "happy" hour for a reason.  A discounted cocktail and appetizer are a great way to brighten up any weeknight.  If you're wondering where you should head this week, here is a rundown of some of the best weeknight happy hour options around town.
Monday
If you haven't had a chance to visit Bistro Foufou, Monday night is an excellent night to do so.   This Classic French bistro in downtown Traverse City features ½ off all bottles of wine.  Their selection is comprised of wines from various regions of France, as well as some Michigan wines.  Paired with an appetizer, it's a proven remedy for a "case of the Mondays."
Monday night is also "$10.95 Pitcher & a Pie Night" at Kilkenney's Irish Public House.  A pitcher of beer and a hand-tossed pizza for $10.95?  Kind of an outrageous deal.  Additionally, it's Team Trivia Night from 7-9, followed by karaoke from 9-1.  So if you're looking for a less than low-key Monday night, why not start the week off with pizza, a pitcher, and an embarrassing rendition of "Gangnam Style"?
Tuesday
Liven things up midweek at Red Ginger.  From 3-6:30, take advantage of $6 martinis, $2 off beer, and $1 or more off wine pours.  Even better,  food specials on appetizers/sushi include discounted edamame, spring rolls, shrimp tempura, spider, and spicy tuna rolls. It's also your last chance to take advantage of their feature for Tuesdays in October – 20% off all bottles of wine.
Tuesday is also "Martini Night" at the Beacon Lounge.  Commonly known as the "Top of the Park," the lounge is located on the 10th floor of the Park Place Hotel.  Enjoy a bird's eye view of Traverse City and a specialty cocktail for a very low price.  Martinis are $5 from 5-midnight.
Wednesday
Fire Fly Cafe and Lounge offers great specials all week long, but Wednesday "Ladies' Day" tops the list for me.  Featuring 1/3 off the entire menu, $5 burgers (including a tasty veggie burger), $1.75 well drinks, $2 house wines, and $1 off all other beverages, you can't really go wrong.  Sorry fellas.
And it must be mentioned, Wednesday night is $1 pint night at Dillinger's and Bootlegger's from 9-2.  Enough said?
Thursday
"Weekly Ethnic Eats" at Left Foot Charley is one of the most unique weeknight options in Traverse City.  Each Thursday from 5-7, Left Foot Charley features a single dish menu as part of a "world tour" of cuisine.  Some dishes featured include Cuban, Mexican, Cajun, Indian, and Lebanese.  Grab a plate with your choice of wine or cider for $15, or $12 without a beverage.
Friday
As the weekend approaches, the quantity/quality of happy hour options seems to decline.  I was pleasantly surprised to discover a fun and distinctive option on Friday at Cherry Republic.  Each Friday they host a "Happy Hour for All Ages" from 5-7, featuring live entertainment, special cherry drinks, appetizers, and kids activities.
Honorable mention –
I have to add that there are several places which offer great happy hour options, Monday–Friday.  To name a few –
Stop by the bar at Union Cantina from 3-6 to take advantage of $1 off top shelf liquor, $2.50 – $4.50 microbrews, or $4 sangria, mojitos, and margaritas.  They also feature discounted appetizers including $4 nachos and $4 guacamole dip.
If you're looking for an after-work brew, Mackinaw Brewing Company offers 18 oz. drafts for $3 and 9 oz. drafts for $1 from 4-6.  The newly re-opened Right Brain Brewery hosts "Super Fantastic Happy Hour" (I dig the title) from 3-6 with $3.50 pints and $3.75 mug fills for members.
Cheers!
Copyright &copy Northern Swag. Hosting by SodaServer.com