Fisherman's Island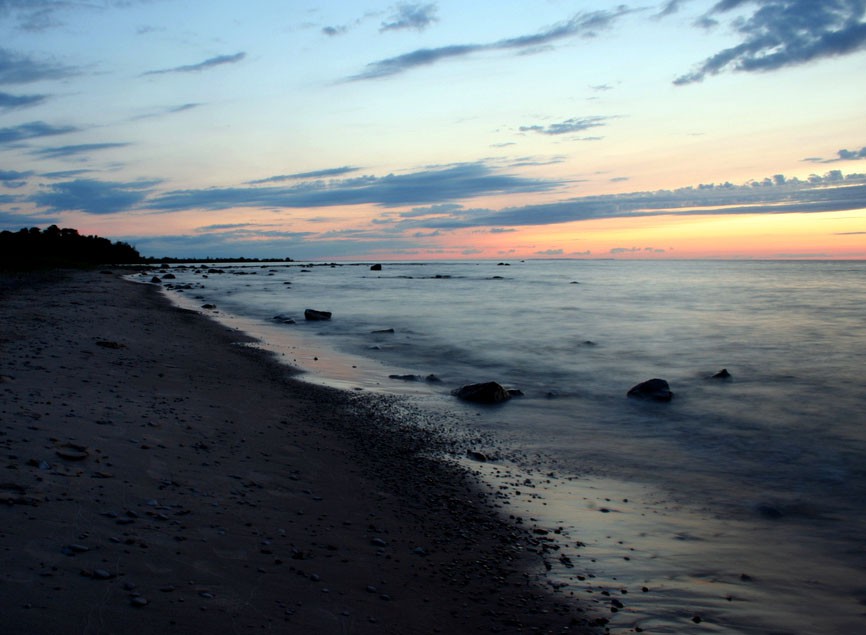 My family and I went on a camping trip over the weekend at Fisherman's Island. We had a great site, which was right across from Lake Michigan with tons of rocks just waiting to be looked through for some Petoskey stones. If you drive down from our north campsite going straight and into the south part of it you'll get to a beach. There's a trail of dunes ready for you to climb to get to the refreshing water (don't worry, it's not a huge dune of doom or anything). It seems really rocky at first, but if you keep walking down the shore a little ways you'll get to where the bottom of the water is pure sand.
Now I'm going to switch subjects on ya here. The water I mentioned before, that was across the road from our site, has more rocks on the shore than sand! My mom and I looked through a lot of the rocks, and sorry to break it to you, but we didn't find any Petoskey stones really. What we did find though, was some pretty darn cool fossils. There's also something else I'd like to throw at you. Between the trees you can see the bright orange sunset bursting with color, with no buildings or civilization interrupting it (unless an annoying car passes by).
Since my Dad (aka Brian), does all the work and we just show up to eat and nap in the hammocks (which rock, you can  get yourself one at the Totem Shop), I thought he should provide some of the details about Fisherman's Island and car camping in general.
– Fisherman's Island is just a few miles south of Charlevoix, right off 31. And no, it's not actually an island.
– There are 2 campgrounds, north & south. The north one is where it's at. Very few of the sites at the southern end are along the water and they're packed pretty close together.
– The entire campground runs along the shore of Lake Michigan, but it's all rocky. But don't fret if you want to swim, there's a beautiful sandy beach about a mile south of the southernmost campsites (with a hiking trail that leads to it if you prefer not to drive).
– I highly recommend making reservations, which you can do online. And another thing I recommend if you're not familiar with the campground is to call the ranger station and ask what sites they suggest. There's nothing worse than getting all geared up for a camping trip and finding out your site is lame. In fact, I do this routinely when visiting new campgrounds and have never been steered wrong.
– Use Ghirardelli chocolate squares for S'mores making, mmmm.
– Car camping is the ultimate activity for the lazy outdoorsman (not an oxymoron). Why schlep all your gear in a backpack when you can bring 10 times as much stuff crammed into your car?
– Do not think that car camping is cheap. The amount of food we bring with us for a weekend would pay for multiple nights out at a high-end restaurant. This is because the entire weekend consists of sitting next to the campfire or on the beach while reading a book and continuously supplying your mouth with a steady stream of junk food, encased meats, and beer.
– It's tough to beat a weekend out in the wilderness with your family & Fisherman's Island is a great place to do that.
Copyright &copy Northern Swag. Hosting by SodaServer.com