Broncobama v. Mitt Romney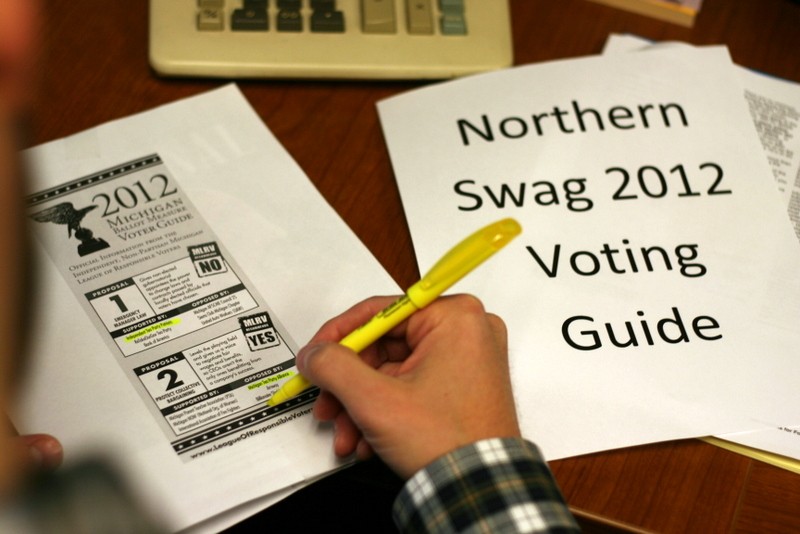 Voting and being part of the political process is incredibly important. So as long as you're not under the age of 18 or a woman before 1920,  please go out and vote. With that being said, please be aware that I have attempted to inject some humor into the process. This is by no means meant to be interpreted as a trivialization of the political process. Also, I've just covered select races in this post because I don't have enough time to run through the entire election. And by not enough time I mean I'm just too lazy. And hungover.
US President: Barack v Mitt. You do not need any more info on this race. The amount of spending in this year's elections is unprecedented, doubling from the 2008 elections. If you own a TV, phone, or radio, you're a sobbing 4-year-old.
US Senator: There are 6 candidates for this one. The frontrunners are Pete Hoekstra & Debbie Stabenow. According to vote411.org, candidate John Litle did not submit his information in time for his occupation/background to be included on the ticket, so you know, vote for the guy that clearly doesn't have his $hit together, I bet he'll be great.
US Congressional Representative: Doctor vs. Farmer/Small Business Owner. The small business owner is the Democratic candidate. Also running, an "independent video producer" and a lawyer. And the lawyer is from the Green Party. I'm so confused. Vote 411 is a great resource though. You enter your location and you can see your local ticket and compare candidates with each other. Do it.
Michigan House of Representatives, 104th District: Wayne Schmidt v Betsy Coffia. Mr. Schmidt did not supply any biographical information to vote411.org. He also declined to respond to questions sent to him by mywheelsareturning.com, one of our favorite blogs (other than ourselves of course). Interpret this how you will.
I was warned not to endorse any candidates or even any political ideologies on this blog (yes, we have our very own PR consultant). And while I agree that's solid advice, I can't help it. Betsy Coffia has run an amazingly brave campaign. All of her efforts have been grassroots, she does not accept any special interest money, and post Citizens United, that seems to be incredibly rare. Politicians should not be purchased by the highest bidder and it's rare you'll find one that agrees with that sentiment. If you disagree with my endorsement (or even if you agree) I invite you to comment below. My only request is that your discourse be kept civil. If you can't handle that you deserve to be lashed with a wet noodle (damn – sorry, that wasn't civil).
Blah blah blah, a bunch of boards of regents and other stuff…
Ballot proposals
There are 6 ballot proposals on the ticket in Michigan.
Proposal 1: would allow the governor to appoint an emergency manager who would use criteria to establish the financial condition of local government units, like schools, and who would then develop financial and operating plans to resolve the emergency. This would include the power to change laws and contracts passed by locally elected officials.
Seems like a lot of power for one appointed (a.k.a. non-elected) individual, no? In fact, this doesn't even sound like democracy.
Proposal 2: would amend the state constitution to give public and private employees the constitutional right to organize and bargain collectively through labor unions.
This proposal is in response to a number of states, 23 in total, having recently enacted "right-to-work" laws. These laws ban contracts in the private sector that force employees to join or pay fees to a union, which reduces the power of unions. Passing this proposal would prevent a law like this from being enacted in Michigan. I don't know much about labor law so I'm just going to leave you with that inadequate analysis. You're welcome.
Proposal 3: will require that we amend the constitution to require that 25% of sales by electric utilities be from wind, solar, biomass, or hydropower by 2025.
I guess my instinct is to wish that we didn't need to amend the constitution in order to put this into effect; that we should all want to support renewable energy independent of an amendment. But considering there are people who still deny that global warming is occurring, that's obviously not going to happen. There are a lot of ads stating that your utility bills are going to increase if this proposal passes. While technically possible, the proposal includes language limiting the increase in rates to 1% per year. Over 30 states have enacted similar amendments, including Michigan. Unfortunately, the Mitten State is at the low end with a 10% requirement. At 25% we'd be near (but not at) the top.
Proposal 4: seeks to amend the state constitution to establish the Michigan Quality Home Care Council and provide collective bargaining for in-home care workers.
This would give home-health care workers the right to unionize, a right they do not currently have.
Proposal 5: would amend the state constitution to limit the enactment of new taxes by state government, unless there is a two-thirds majority vote of the state House of Representatives and state Senate, or a statewide vote of the people.
A 2/3 vote (known as a supermajority) for new taxes? Can you say "partisan gridlock?" 13 senators out of 135 members of the Michigan Legislature would be able to stop the closing of tax loopholes and the enactment of new taxes.
Proposal 6: would amend the state constitution to require a statewide and local vote before any new international bridge or tunnel for motor vehicles is constructed.
Big "NO" on this one for me. If passed this would basically enshrine in our constitution one dude's right to make tons of money. If you're an heir to his estate then I'll let it slide if you vote yes. Otherwise, we'll settle it with fisticuffs.
This seems to be a hotly debated topic. I think the saying is, "vote no on 6 to say yes to the new bridge." Michigan Truth Squad, part of the bipartisan Center for Michigan, has rated all the ads supporting the amendment as "Flagrant Fouls," questioning the truthfulness of their contents. This also seems to be the most bizarre proposal. All costs to construct the bridge would be provided by Canada, who will also bear all liability related to construction. The rich white dude multi-millionaire owner of the Ambassador Bridge, the current route to Canada from Detroit, has spent 30 million dollars through companies he owns to support this proposal (which means opposing a new bridge). That's pocket change from what this guy makes from owning the primary way to transport goods to our friendly Canadian neighbors.
Probate Judge: The probate judge has jurisdiction over some seriously boring, but very important matters, including: administration of decedent's estates and trusts, and over guardianships and conservatorships. The 2 candidates are Kirsten Keilitz and Melanie Stanton. I had the opportunity to be in Ms. Keilitz's courtroom (she's currently a referee) a few times as an intern. She was intelligent, measured, composed, and fair. I don't think you can ask for much more.
TCAPS Bond: As we all know, property values have stagnated as opposed to increased recently. As a result, there is a bond proposal for TCAPS which would increase your property taxes by approximately $60 to $80 a year. Construction will use local contractors and there is an important trickle down effect to good schools, they attract good employers and employees to our area, ultimately benefitting the economy. This is a no-brainer – yes.
Okay, there's more, but I'm done. Go vote.
Copyright &copy Northern Swag. Hosting by SodaServer.com