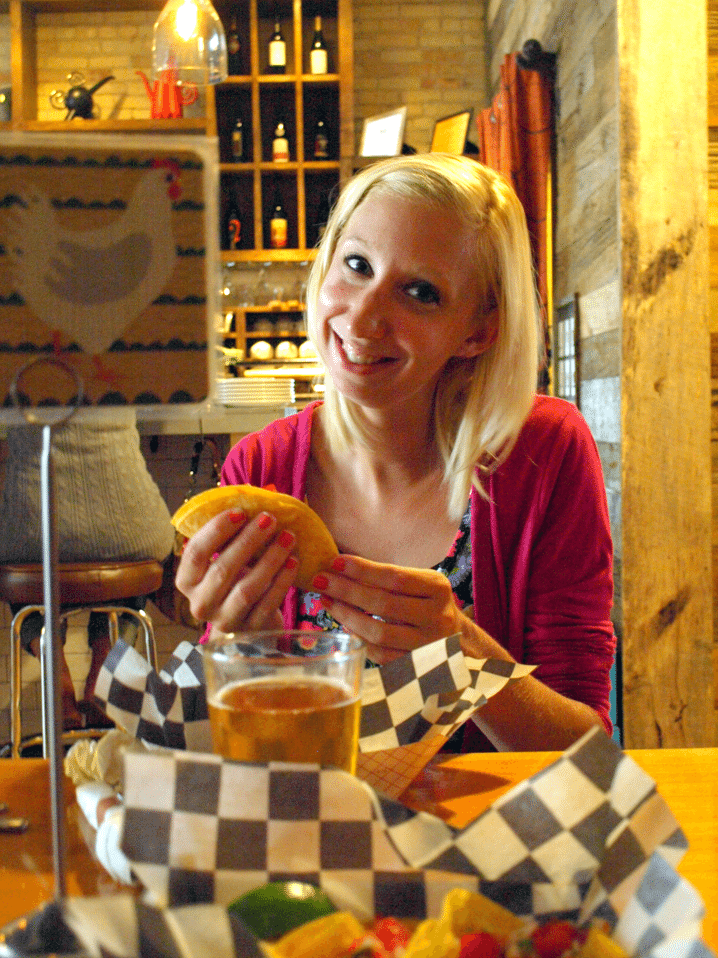 Beer, coffee, and tacos?  It sounds unusual, but after a recent outing to Brew's Taco night, I may become a regular.  Every Thursday, 6-10 pm, three tacos (the offering changes by week..steak, chicken, pork, sometimes veggie), with homemade pico de gallo in soft corn tortillas for $7.99.  Worth noting, you can add a pint of cerveza for just $2 ($9.99 for 3 tacos and a pint?!…obvious choice).  Great environment for young, old, and everyone in-between.  Spotted at tables nearby: a twenty-something couple enjoying good food/conversation, a hipster grabbing a taco and a beer at the bar, and a family with two toddler-aged boys playing chess at a table.  Welcoming vibe, good tacos, and a great excuse to have a beer (or two?) on a weeknight.
Read More

»
We rode our bikes to The Filling Station the other day, which is a new restaurant in TC. We sat outside and played Frisbee and there was live music by Mike Moran. I really liked his music a lot, and my mom and I danced together to one of his songs. I also got to meet him, which was
really cool. When it got darker the lights hanging overhead shone brightly and it was an inviting
atmosphere.
I ordered locally made pomegranate lemonade mixed with soda water. It was a very bright, bold pink colored drink, with a lot of small fizzing bubbles. The pomegranate lemonade was kind of fun to drink, and I could feel the little bubbles popping on my tongue when I took a sip. It was very refreshing, especially on this summer night. For dinner I got the Burlington Northern pizza, which had garlic oil, roasted garlic cloves, red onions, pear, prosciutto, brie, parmesan, and was topped with a balsamic reduction. I really liked this pizza, especially the pears, which made it different from other pizzas I've had. My brother got The Overnighter. It had garlic oil, sesame seeds, herbs, parmesan, and mozzarella. I tried a slice of his too and it was very tasty.
For dessert we had the S'mores Caboose pizza. It had Nutella, graham cracker crumbs, marshmallows, and was drizzled with caramel and chocolate. It was very rich and tasted like I was eating a real s'more!
The whole Northern Swag team was there at the Filling Station. Overall, the night was very enjoyable and I definitely want to come back here soon.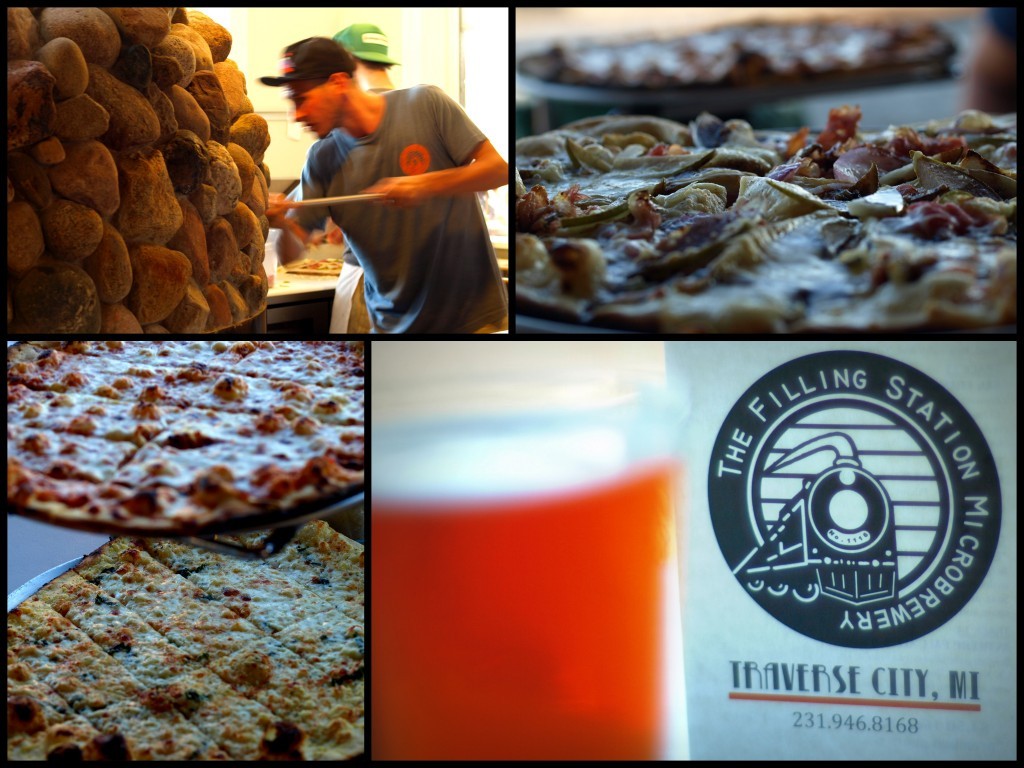 I've always had an affinity for musicians.  I think it's part of my lifelong dream to be a pop star (hence, my major fashion inspiration).  Recently I've seen some particularly exciting acts from the diverse and talented mix of musicians featured around town.
Funktion
is a funk/soul/groove band hailing from Kalamazoo.  I was out with some girlfriends a few weeks ago at
Union Street Station
when they were performing, and we had an absolute blast.  They played a wide variety of funky covers from classics 
like Parliament's "We've Got the Funk" to 90s throwbacks like "No Diggity."   There was a good crowd, and the band was extremely high-energy.  They tried to get everyone involved…and on the dance floor.  Did 
I mention they had a trumpeter and a bongo player?  So much fun.
I also caught Mike Moran at the Filling Station last weekend.  Being relatively new to the area, I wasn't familiar with his music, although I have since learned that he is synonymous with summer music in TC.  And understandably so.  He's earned comparisons to John Mayer, Dave Matthews, and Paul Simon, and his performance outside on the patio set the backdrop for a perfect summer evening.  His set was comprised of a mixture of his original music and unique covers, and was enjoyed by all…and all ages.  This is the second time I've seen Mike perform (groupie alert?) and was definitely not disappointed.  Great music and great venue!
Copyright &copy Northern Swag. Hosting by SodaServer.com