Arcadia Dunes – Old Baldy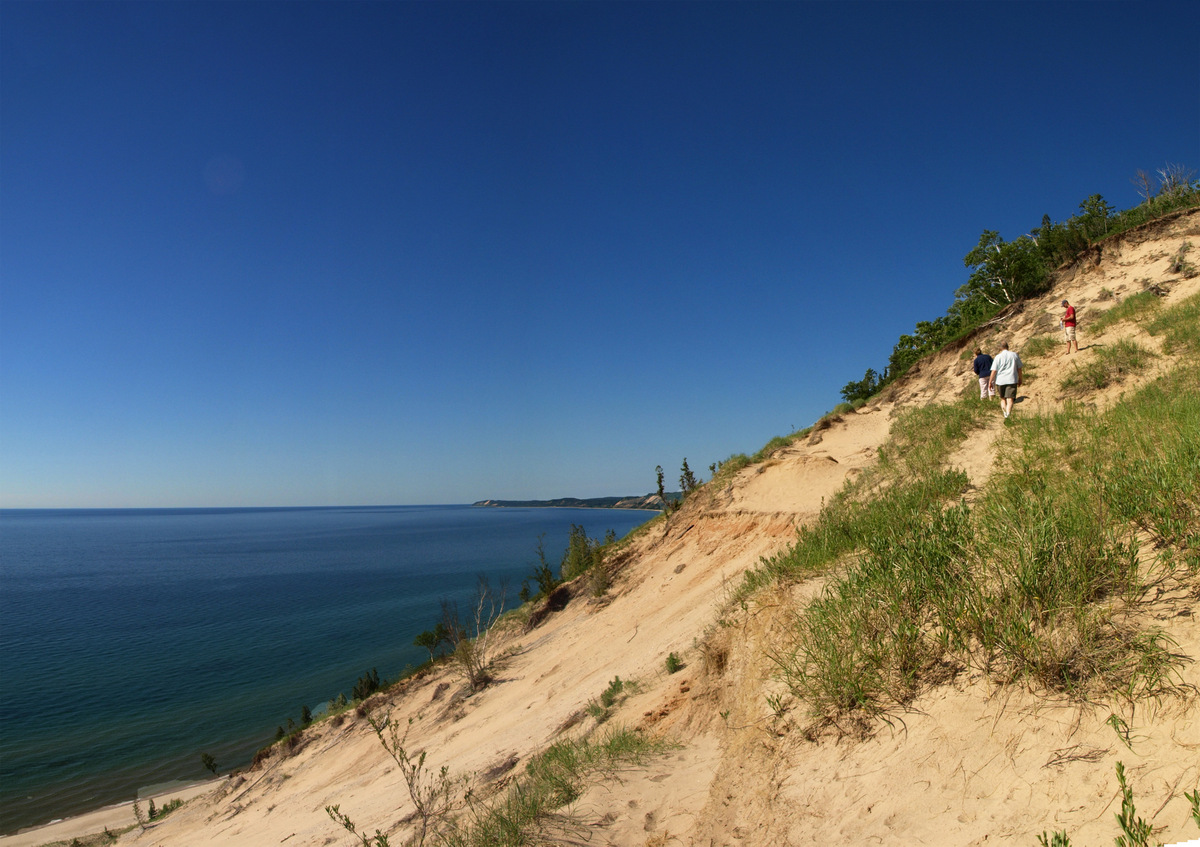 I have a summer bucket list (a list of things to do before summer kicks the bucket). Arcadia Dunes had made the list because of rave reviews and my desire to show some love to the other counties while exploring some new areas. Arcadia is a bit of a drive (close to an hour from Traverse City), but it is gorgeous and relatively quiet compared to the other dunes that have gotten a bit a lot of national attention lately. The entire C.S. Mott preserve, that this particular hike is part of, is 3,600 acres, which combined with the adjoining preserved farmland,  makes it one of the largest conservation projects completed in the Midwest.
We headed off on the Old Baldy Trail, a hike that is about a mile one-way through wooded areas and grassy duneland, and leads to a breathtaking view of Lake Michigan from the top of the perched dune known as Old Baldy.  For a "county girl", used to always seeing our friendly Manitous out in Lake Michigan from similar lookouts, it was unique to look out at Big Blue and only see water for miles.  To the north you can see the lighthouse in Frankfort, south are the actual towns of Arcadia and Manistee.   Looking down from the top, there is an inviting beach that of course made me want to descend.  A few hints about these types of descents down perched sand dunes:
1. Always remember; this is the opposite of rear-view mirrors: "Water at the bottom of this dune is WAY FARTHER than it appears".
2.  If you convince a reluctant participant to do the descent with you, AVOID eye contact at all costs on the climb back up. It will only open an avenue of release for the anger they may be feeling from calves of fire and lack of air in their lungs.
3. Don't look up.  It's still (my mom reads this, so insert expletive word of choice) FAR, trust me.  Keep crawling.
4. When it's over, don't say you will never do it again…because that blue water and sandy beach will always beckon you into a descent and climb of pain.
5. When you get home, don't feel bad about cracking open a cold beverage of your choice and kicking your sandy, tired feet up.  You have earned it.
With these tips in mind, you'd be amiss to not add Arcadia to your summer list.  Make a day of it and visit some of the other areas of the preserve.  Bring your mountain bike and try out the Dry Hill Trails on the East side of M-22 or your binoculars and bird nerd it up in the grassland area (parking along Keillor Road).
Footnote:  Thanks to Matt Forschner for agreeing to the descent, for not killing me on the way back up, and for some of the photos below.
Copyright &copy Northern Swag. Hosting by SodaServer.com