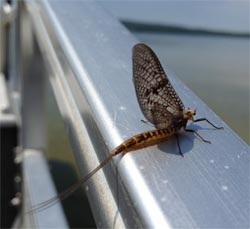 If you've spent any time around northern Michigan's inland lakes and rivers in late spring and early summer, you've seen them. They emerge from the water – often by the thousand – from late May to mid-July and cover boats, docks, decks, screen doors, walls, sidewalks, driveways, and just about anything they can find.
You might call them mayflies. Or "fish flies." Fly Fishers typically call them "Hex" flies. Trout, and plenty of other fish, call them dinner.
"Hex" is short for Hexagenia limbata, one of the largest mayflies to hatch from northern Michigan lakes and streams each spring and summer. For trout living in these cool, clear waters, the large mayflies are an excellent food source. On trout streams where the Hex hatch, the largest fish in the river feed actively on duns (newly hatched flies) or spinners (flies that have returned to the water to lay their eggs) as they float downstream.
With big fish feeding on large flies – often in the middle of the river – the Hex hatch presents fly fishers with one of the best opportunities of the season to fish for trophy fish on dry flies. But… it's not quite as easy as it might sound.
Hex flies "hatch" at night, emerging from the water or taking flight from trees and other nearby shelter at dusk or even later.
When fish begin feeding on them, it's often pitch black. Using a light would make the fish aware of the angler's presence, so casts must be made in the dark, with the location of the fish measured by the sound of the fish rising and distance and placement of the cast judged by feel. Casting a fly rod can be difficult enough in broad daylight, with trees waiting to snag a backcast and brush and logs presenting obstacles on the river's surface. Add in wading in the current while avoiding unseen rocks and logs beneath the surface, and fly fishing during the Hex hatch presents a truly unique challenge.
Despite the many factors working against fly anglers, the Hex hatch is an annual event for many. Sleep schedules are thrown into disarray by late nights on the river, but the rewards can be great. I've been fishing the Hex for a number of years, and have had many a quiet night on the water without a hatch or when the seasoned trout in the river aren't fooled by the artificial Hex fly presented to them at the end of my fly line. But when the stars – and the Hex flies – align, battling a large brown trout, landing it, and capturing a photo before releasing the fish makes it all worth it.
The camaraderie with fellow anglers is also part of the fun, and although the Hex hatch is done for this season, we've already begun talking about next year. Do you have a great story about fishing the Hex? Let us know in the comments!
Copyright &copy Northern Swag. Hosting by SodaServer.com